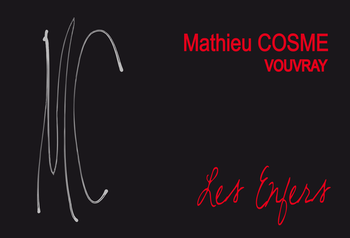 Cosme Vouvray Les Enfers 2019
Mathieu looks more like a retired rugby player, with his bear-like man-body belying the fact that he is making fine, aromatic, savory, dry Chenin Blanc. He's very clear that he doesn't really like sweet and cloying white wine, but that doesn't mean he doesn't enjoy a little sweet-ness. As such, his wines are actually nice and dry, yet sumptuous on the lips, like a sweet kiss, but limpid and refreshing going down. There's really nothing like them.
Les Enfers is a small parcel on Cosme's best hillside, with 40 years of vine age, and is harvested manually then aged in old large tonneau for more than a year. The wine ferments slowly, with no yeast addition, and is bottled once it is completely dry. It's an old school way of making Vouvray, a method of "just let it rest". The natural material of 2018 allowed this. I would call this a perfect dry Vouvray.
Early in my career I was fortunate to taste and enjoy some dry Vouvray from miraculous vintages like 1978, 1985 and 1989. And I guarantee you, those same wines are STILL going strong and will continue to do so for another 20, 30, or 50 years. No one really knows. IMPO, this 2018 ranks the same way. Wines like this come along once a decade maybe.
But here's the rub: Just like many of the great wines, this one is made in a minuscule quantity--usually only a few thousand bottles each year. We'll tuck our 180 inside our jacket and run away.
Mathieu Cosme Vouvray Les Enfers 2019
from a south-facing, 40-year old Chenin Blanc vineyard
Organically-farmed, Biodynamic, natural yeasts
Dry, concentrated, complex, and perfect