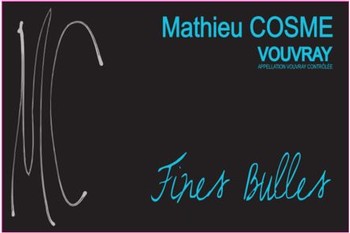 Cosme Fines Bulles Vouvray Brut
A Vouvray producer many years ago told me that understanding Vouvray, and its ubiquitous grape, Chenin Blanc, goes a long way toward understaning white wine in general. It is ageworthy, yet lovely in its youth. It can be made dry, semi-dry, sweet, and sparkling. It is the most transparent of grapes, relying heavily on the ground upon which its grown, in this case the local tuffeau, a geologically ancient compressed stone. The vintage truly tells the winemaker what to do.
For me, this is the best place in the world for Chenin Blanc. Hands down. No contest.
Many decry Vouvray as sweet, which is unfair because Chenin Blanc is also a high acid grape, with any sweetness always balanced by freshness. Think of it like margarita fixin's--tequila, lime, salt. Chenin gives the same thing.
Regardless, this one is actually nice and dry, sumptuous on the lips, like a sweet kiss, and limpid and refreshing going down. And then, when it's bubbly, a fine bead reaching from the glass to the lips. Well...all bets are off.