Corzano e Paterno Chianti 2016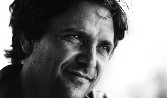 If you, dear reader, manage to ever visit the fantastic farm of Aljoschi Goldschmidt in Tuscany, you will receive an email from him prior to your arrival. Contained within will be advice to NOT trust your car's GPS to find the winery, and should you choose to use the GPS anyway you will instead end up on a driveway suitable only for mountain goats. And your rental car will be toast.
So on my first visit to Corzano e Paterno, I almost needed a new rental car.
But after slowly backing out of the rut-lined "road", I made the 20 minute circuit around this large property and found the correct driveway. It's a long slow drive and one that you wish you could take just one way in, and to never return to reality.
This is an extraordinary Tuscan farm of olive trees, sheep (for Tuscany's best cheese), and wine. We'll get around to importing cheese and oil in the year's to come but its the wine that will lift our boat and introduce you to this incredible place.
The Chianti normale at Corzano e Paterno would give a run for the money to many of Tuscany's top estates. Aljoscha's wines are of course structured and rich (it is Sangiovese after all), but they are also pure, lively, and filled with brightness. This 2016 fits the bill. A wonderful and warming wine for getting through the winter, but also a perfect bottle to accompany spring morels and fava beans, arriving about the same time this wine will.

This item is currently out of stock.