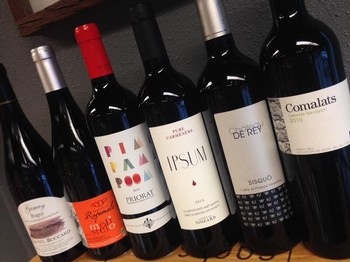 CorksCru Intro 6-pack
Get to know us with just six bottles!
A terrific way to check out the kinds of wines we like to import, source, and select. We've put together a little wine cabinet "stocker" for you to enjoy.
This mix is tooled for to say goodby to winter and hello to Spring. It's a shout out to some of our favorite red wines in France and Spain. The first three are pretty, vibrant, juicy, easy-drinking reds. The second three are more 'stick to your ribs' and 'stain your teeth.' But, we think you'll love them all!
Here's what's included:
Domaine de Roquemale Meli-Melo 2015, $14
Daniel Boccard Bugey Gamay 2015, $13
Sao del Coster Pim Pam Poom Priorat 2016, $23
Chateau de Rey Sisquo Rouge 2015, $15
IPSUM Pure Carmenere 2015, $22
Comalats Cabernet Sauvignon 2015, $16
And some good math too! By our addition that's a $101 regular price, and all yours for just $84, nearly 18% off.