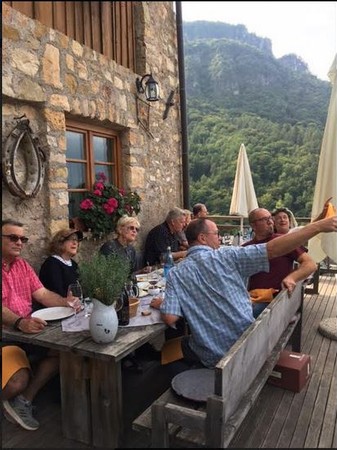 CorksCru Sampler
A Vinous Tour of Europe
FREE Shipping to any West Coast address
We have a vested interest in the farmers and winemakers we meet, the wines they make, and the stories they have to tell. As of this writing we're working directly with about 40 wineries in France, Spain, Portugal and Italy, and over the past year about 50,000 or so of their bottles found their way into our warehouse and then out into your car or onto a UPS truck. Thank you!

With this six-pack you'll be introduced to a virtual "Tour de Europe" of some of (we think) our best selections in the $20 price range. Get to know us in just a week or two with this nice half dozen bottles from the countries we explore--Italy, France, and Portugal.
With this six-pack you'll receive two whites and four reds. Here they are:
The Whites
Two of my Loire Valley Favorites...
Hautes Noelles Florès Grolleau Gris2020, $18--This is a new entry in the Hautes Noelles lineup, introduced just this year by the new owners. It is from a wine grape of yore, the loveable and little-known Grolleau Gris. From a small parcel that yields only 9000 bottles a year (we're good for 600 of them). It took me just one smell and sip to look at Jean-Gabriel and ask for a solid palette of this one. The wine shimmers with an almost light coppery color, sort of a pale citrine, with aromatics of ginger, quince, and jasmine that greet your sniffer. The palate is clean and vibrant, with a medium weight and a refreshing acidity that lingers througout. It's proximity to the sea also gives it a kind of saline quality on the lips, but nothing too overwhelming.
Mathieu Cosme Vouvray les Enfers 2019, $32--Mathieu looks more like a retired rugby player, with his bear-like man-body belying the fact that he is making fine, aromatic, savory, dry Chenin Blanc. He's very clear that he doesn't really like sweet and cloying white wine, but that doesn't mean he doesn't enjoy a little sweet-ness. As such, his wines are actually nice and dry, yet sumptuous on the lips, like a sweet kiss, but limpid and refreshing going down. There's really nothing like them. Les Enfers is a small parcel on Cosme's best hillside, with 40 years of vine age, and is harvested manually then aged in old large tonneau for more than a year. The wine ferments slowly, with no yeast addition, and is bottled once it is completely dry. It's an old school way of making Vouvray, a method of "just let it rest". The natural material of 2017 allowed this. I would call this a perfect dry Vouvray.
The Reds
First, two from Portugal...
Adega Monte Branco Alento Tinto Reserva, Alentejo 2017--I've been to Monte Branco, deep in the heart of the Alentejo, half a dozen times in just 3 years, and each time I leave thinking to myself, "Why didn't I get here sooner?" Luis Louro represents everything I love in the spirit of a young winemaker--energy, passion, and a determination to create something special and long lasting. This is a classic, native Portuguese wine through and through. The local Aragonez, Alicante Bouschet, and Touriga Nacional work beautifully together here to make a simply wonderful bottle of wine. The local soil consists of schiste (slate) and marble (!), and creates wines of dark-hued, almost maroon color. I love the whiff of eucalyptus and the chocolate-y dynamic that erupts from the glass. Anything you decide to barbecue the remainder of this summer and into fall will thank you for this pairing. One year in mostly neutral oak gives a classy richness too.
Vadio Tinto, Bairrada 2017, $24--This is not the place to come when you want to find Portugal's answer to Chardonnay or Syrah or Pinot Noir. Instead, Luis is making red wines with a local grape called Baga. He treats a small plot of centenary vines like a nursery, guaranteeing that all his future vineyards will be planted using this massale selection, and keeping the heart and soul of his tiny grape growing valley alive. (he is the only independent producer in his village). The incredible Baga (think: love child of Nebbiolo and Pinot Noir) is planted in sandy soils with clay-limestone and features a dark garnet colored with just a bare transparency.
Then, one from France...
IPSUM Pur Carmenere, Bordeaux 2020, $25--Carmenere is typically associated with 6 dollar Chilean wines. But before it became known in South America it was considered the "sixth grape of Bordeaux". Today there are only 4 hectares of Carmenere left in Bordeaux. (!) That's all folks. I bet many Bordelais wineries wouldn't even know there was still any in the ground, let alone plantings the size of a small farm backyard. The Siozard boys might prefer to keep it that way too. Their tiny plot, organized into about twenty rows, is a true gem, planted by their grandfather, and yields one of the most exciting Bordeaux I've tasted in a decade. David and Laurent make between 4-10 barrels per year, just a few thousand bottles from their tiny vineyard. What you'll find in the bottle is a blue/purple wine, fairly soft and round, with a jam-packed richness and concentration. Carmenere is most impressive in its youth because it's not really an assertive, tannic grape variety. I'd drink this wine straight away, while it's nice and primary.
And last but not least, one from Italy...
Crissante Alessandria Barbera d'Alba 2020, $24--Alberto Alessandria is now the 8th generation at the helm of the Crissante Alessandria winery. His grandfather was first to exploit their family's 2 hectares into bottled wine in the 1950s. Then, his father kept the status quo until Alberto's arrival on the scene in 2008. And over the past decade they have made significant investments to their land and facilities. Over the course of a 4-hour visit a few years, I was methodically shown every square inch. The Alessandria family owns vineyards surrounding the frazione (hamlet) of Santa Maria and just below the pretty hilltop village of La Morra, a well-known address for Barolo lovers. There are a total of 6 hectares spread among 5 different parcels, all creating distinctly wonderful and delicious wines. One parcel is dedicated to this lovely Barbera, a wine that does the trick for almost any dinner one can imagine.