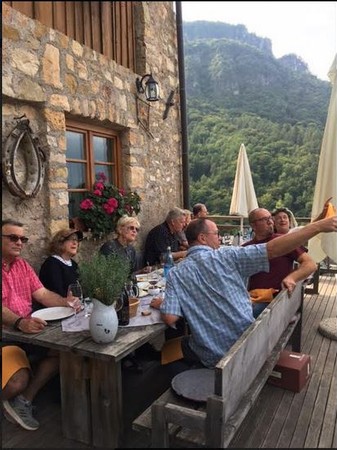 CorksCru Sampler
A Vinous Tour of Europe
We have a vested interest in the farmers and winemakers we meet, the wines they make, and the stories they have to tell. As of this writing we're working directly with about 40 wineries in France, Spain, Portugal and Italy, and over the past year about 50,000 or so of their bottles found their way into our warehouse and then out into your car or onto a UPS truck. Thank you!

With this six-pack you'll be introduced to a virtual "Tour de Europe" of some of (we think) our best selections in the $20 price range. Get to know us in just a week or two with this nice half dozen bottles from the countries we explore--Italy, France, and Portugal.

We start near Lake Garda, head south to Tuscany, turn toward France in the Loire, the Languedoc, and Bordeaux, then finish in the Alentejo, not far from Lisbon. That's a good trip!

The White

Giovanna Tantini Bianco di Custoza 2019, $17--This a white you'll not soon forget. Made from the local Garganega and splashed with salt and pepper varieties Chardonnay and Trebbianello, it is a lively, gorgeous white with that oh-so refreshing summery freshness that we just love. In fact, we tasted this over the winter directly from tank, and there was just no way in hell I was spitting it into the trench drain. When Giovanna served up some nice fresh salami chunks, I was hooked.

The Rosé

Domaine de Claouset Bordeaux Rosé 2019, $15--I have never once, not ever ever, imported a Bordeaux Rosé. But when I tasted this one, freshly bottled and quivering with freshness, I vowed to change my ways. I think you'll come to quickly approve of this one.

This is the everyday wine at Claouset. The range improves from here. But you know me, I like finding the great value in the everyday bottle. And this one is it!

The Bubbly

Les Bulles de La Camarette RoséNV, $28--This is one is available just two places--at the wonderful auberge during dinner at Camarette, or right here. There is no more unlikely place to find a beautiful sparkling rosé than here, in the heart of Provence. So whip yourself up a ratatouille, make a bottle cold, and transport yourself to a shady table under a sycamore tree.

The Reds

Mas Seren Lilith IGP Cevennes 2017, $24--Old Vine Grenache (50%) and Cinsault (50%) comprise this wine--a savory, mouthfilling, ample red grown deep in the Cevennes countryside. For me there is no better value in the Languedoc. If this wine said "Chateauneuf" on the label it would be 3x the price.

And, it's amazing what has been created here simply using fiberglass tanks. Not a splinter of oak to be found. Plump, juicy, round, and complex. What more could you want?

Adega Monte Branco Alento Tinto Reserva 2016, $27--This is a classic, native Portuguese wine through and through. The local Aragonez, Alicante Bouschet, and Touriga Nacional work beautifully together here to make a simply wonderful bottle of wine. The local soil is comprised of schiste (slate) and marble(!), and creates wines of dark-hued, almost maroon color. I love the whiff of eucalyptus and chocolate-y dynamic that erupts from the glass. Anything you decide to barbecue this summer will thank you for this pairing. One year in mostly neutral oak gives a classy richness too.

La Salceta Ruschieto Sangiovese 2014, $25--What we have here ostensibly is one of the best Chianti I've tasted in years. But we're not calling it Chianti, okay? Because its better than that. Way better.

Ruschieto is a one hectare vineyard in the Valdarno di Sopra zone, not far from Chianti Classico, about halfway between Siena and Arezzo. Ettore Ciancico makes just 2000 bottles and sells most of his wine locally. I feel lucky to have gotten about 10% of the loot. His wines have started to change my mind about Sangiovese, and in a way, about Italian red wine in general.
*Summer weather hold may apply for shipping orders.