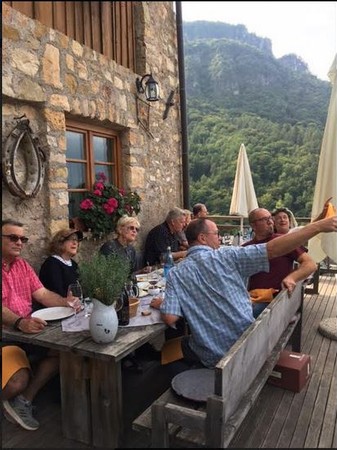 CorksCru Sampler
A Vinous Tour of Europe
We have a vested interest in the farmers and winemakers we meet, the wines they make, and the stories they have to tell. As of this writing we're working directly with about 40 wineries in France, Spain, Portugal and Italy, and over the past year about 50,000 or so of their bottles found their way into our warehouse and then out into your car or onto a UPS truck. Thank you!

With this six-pack you'll be introduced to a virtual "Tour de Europe" of some of (we think) our best selections in the $20 price range. Get to know us in just a week or two with this nice half dozen bottles from the countries we explore--Italy, France, and Portugal.

We start near Lake Garda, head south to Tuscany, turn toward France in the Loire, the Languedoc, and Bordeaux, then finish in the Alentejo, not far from Lisbon. That's a good trip!

The White

Giovanna Tantini Bianco di Custoza 2019, $17--This a white you'll not soon forget. Made from the local Garganega and splashed with salt and pepper varieties Chardonnay and Trebbianello, it is a lively, gorgeous white with that oh-so refreshing summery freshness that we just love. In fact, we tasted this over the winter directly from tank, and there was just no way in hell I was spitting it into the trench drain. When Giovanna served up some nice fresh salami chunks, I was hooked.

The Rosé

Domaine de Claouset Bordeaux Rosé 2019, $15--I have never once, not ever ever, imported a Bordeaux Rosé. But when I tasted this one, freshly bottled and quivering with freshness, I vowed to change my ways. I think you'll come to quickly approve of this one.

This is the everyday wine at Claouset. The range improves from here. But you know me, I like finding the great value in the everyday bottle. And this one is it!

The Bubbly

Vadio Espumante Branco Solera NV, $29--THIS wine right here, was hands down my favorite from a week jaunt in Portugal during March 2020. Wow.
Produced from bical, baga and cercial, each plot is harvested individually during the morning, followed a gentle whole bunch pressing. The fermentation takes place totally in barrel and the aging on lees is promoted for about 6 months. The aroma has great complexity and elegance, as a result from the solar aging. It is dominated by nuts, notes of crystallized fruit and a slight salinity. The palate is creamy and rich with a balanced acidity and a lot of depth.
The Reds

Mas Seren Lilith IGP Cevennes 2017, $24--Old Vine Grenache (50%) and Cinsault (50%) comprise this wine--a savory, mouthfilling, ample red grown deep in the Cevennes countryside. For me there is no better value in the Languedoc. If this wine said "Chateauneuf" on the label it would be 3x the price.

And, it's amazing what has been created here simply using fiberglass tanks. Not a splinter of oak to be found. Plump, juicy, round, and complex. What more could you want?

La Rose Vimiere Bordeaux 'Les Eymerits' 2018, $19--This comes from the winery of Vincent Lagrave, a former rugbyman now farming exactly 1 hectare in Lalande de Pomerol, and in the process of renovating a building using his own homemade scaffolding--made from old pallets! Lagrave makes this lovely Bordeaux from a small holding on the other side of the street--just OUTSIDE the Pomerol appellation. It is Merlot and Cabernet Franc at its succulent, lovely best.

Terra Remota Camino 2017, $27--Situated on the outskirts of the villages of Capmany and Sant Climent Sescebes, at the heart of a forested area, the estate is protected from the northern tramuntana wind by the Albera Massif. It lies some 15 km from the Mediterranean sea, at a height of 140 metres above sea level, in the very northeast of Spain. This is a solitary, captivating spot that appears to be far removed from the rest of the world, and explains the name Terra Remota. Paradoxically, despite the remoteness of the location, this area has been occupied by human communities since ancient times. Thus, remains of settlements belonging to the Iberian culture have been documented in the region, which goes to prove the long history of the human presence in this territory.
Camino 2017is a 'rocking' good wine--quite fine for a warm-climate red wine, yet Catalan through and through with a saturated color, a wonderful vivacity, and superb length. Easily one of the best wines we import.