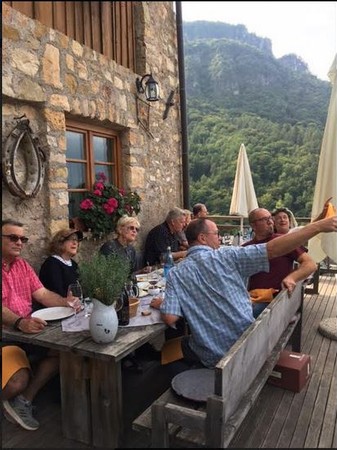 CorksCru Sampler
20% off Regular price PLUS Free Shipping!
We have a vested interest in the farmers and winemakers we meet, the wines they make, and the stories they have to tell. As of this writing we're working directly with about 40 wineries in France, Spain, Portugal and Italy, and over the past year about 50,000 or so of their bottles found their way into our warehouse and then out into your car or onto a UPS truck. Thank you!

With this six-pack you'll be introduced to a virtual "Tour de Italy" of some of (we think) our best selections in the $20 price range. Get to know us in just a week or two with this nice half dozen recent discoveries from all over Italy.
With this mixed pack you'll receive six different reds, all ready to drink right now. Here they are:
From way down in Sicily...
Cantine Pupillo Damarete Rosso 2020, $25-- A superb blend of Nero d'Avola (the most important red of Sicily) and Cabernet Sauvignon (less important, but seemingly at home here). Juicy and delicious Sicilian red for under $25? Where do I sign up?? Alas, here we are, our first foray into Sicily, Mt. Etna looming to the north, with loads of red wine all around. And what do we do? We decide to offer a red wine from the island's southeast, and from a winery I imagine we'll go back to again and again.
...to the shores of Lake Garda
Giovanna Tantini Bardolino La Rocca 2020, $24 -- Giovanna's joyful, easy attitude undoubtedly infuses itself into her wines. They are bright and cheerful, like this rose-scented Bardolino, a new wine in her lineup, and one that I have been anticipating for several years when she first whispered to me about it. This is one of our winemakers that I wish all of you could get to know, so we could all just hang out in the sun, a glass of Giovanna's wine in hand, and enjoy the moment forever. Here's a chance to do that through one of her best bottles of wine. She calls this bottling her "Prince among the wines we produce." The pride shows through. It is nice to drink Bardolino that has spent equal time aging in both stainless steel AND barrels, the latter giving the wine a wonderful layer of richness. Overall, this isn't a darkly colored opaque wine, but it is so alive with a salad bowl of fruit, and accompanied with a whiff of herbs like fresh tarragon and rosemary.
Then, two from Tuscany...
Michele Ranieri Senziente Tuscany Maremma DOC 2017, $24--The idea of Senziente is easy--it is an equal parts blend of each of the three wines that Michele bottles on their own--Sangiovese, Merlot and Cabernet Sauvignon. Made entirely in stainless steel tanks, this one is pure and bright, and clearly showcases elements of each of the above varieties. Sangiovese gives some plummy fruitiness, Merlot for some color and power, and Cabernet for a little tannin and structure. 2800 bottles produced.
Poggio al Sole Chianti Classico 2020, $27-- The Davaz family vineyard is the heart of Chianti Classico, arguably one of the top 3 or 4 sites in the entire denomination (not by way of my opinion, but that of the region's top consulting enologist). In fact, their property is surrounded on virtually all sides by vineyards that are farmed, or belong to, the famous Antinori. Poggio al Sole is one of only two independent wineries in all of Tavernelle Val di Pesa. I've always found the Davaz' Chianti to look and feel like Pinot Noir was part of the picture. They really go for a fine and understated style of winemaking, and this new vintage is no diferent. Lovely aromatics in the glass give way to mouthful of pure pleasure--silky, only lightly tannic, and a lovely complexity.
...And finally, a pair from Piedmont
Alemat 'Barbacro' 2021 $19-- Here's a unique red that is made with approximately 70% Barbera and 30% Croatina. (see 'Barb' + 'Cro' = Barbacro) The vinification is made with a shorter permanence on skins, in order to have something let's say more ready to drink compared to other of Alemat's wines. The name references of course the blend of BARBERA + CROATINA, but then Savio discovered that in a Normandy dialect, it means "HANDLEBAR MUSTACHE". So they designed the package with this in mind. What is interesting is that the label is printed using a special new technology: almost every label is different. It can change: mustaches, eyes, the shirt and butterflies.
Contrada di Sorano Dolcetto D'Alba Autin 2020, $23--A pure Dolcetto sourced from just 2000 plants that make up a solitary vineyard plot called Autin (a small vineyard in Italian). That parcel yields just 1000 bottles! Think of that for a second--2000 plants, 1000 bottles. How's that math? This Dolcetto is brimming with blue and black fruit, is succulent to its core, and has what seems like a faint crack of the pepper mill in the finish of each swallow. I contend it's the wine the locals prefer to drink with their tajarin and ravioli, leaving the Barolo for expensive restaurants and multi-course dining events.