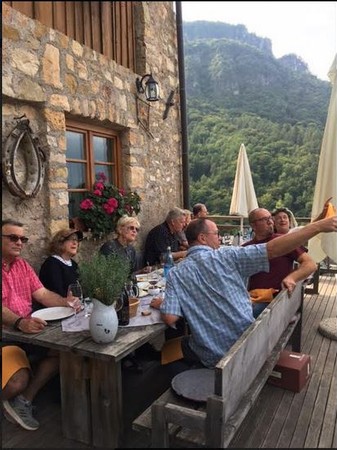 CorksCru Sampler
A Vinous Tour of Europe
We have a vested interest in the farmers and winemakers we meet, the wines they make, and the stories they have to tell. As of this writing we're working directly with about 40 wineries in France, Spain, Portugal and Italy, and over the past year about 50,000 or so of their bottles found their way into our warehouse and then out into your car or onto a UPS truck. Thank you!

With this six-pack you'll be introduced to a virtual "Tour de Europe" of some of (we think) our best selections in the $20 price range. Get to know us in just a week or two with this nice half dozen bottles from the countries we explore--Italy, France, and Portugal.

We start near Lake Garda, head south to Tuscany, turn toward France in the Loire, the Languedoc, and Bordeaux, then finish in the Alentejo, not far from Lisbon. That's a good trip!

The White

Les Hautes Noelles He-HO Le Blanc 2019 $16--To preserve the environment, Domaine Les Hautes Noëlles is committed to a process of organic farming. For many years, no herbicide has been used in order to come back to older practices such as ploughing which allow our wines to enhance the expression of the soil and the work in the vines. He-ho Blanc is a playful Val de Loire white wine made from the nearly forgotten Grolleau Gris. A wonderful pink grapefruit aroma leads to wine filled with exotic fruits, Asian spices, and a touch of white pepper.
The Rosé

Domaine de Claouset Bordeaux Rosé 2019, $15--I have never once, not ever ever, imported a Bordeaux Rosé. But when I tasted this one, freshly bottled and quivering with freshness, I vowed to change my ways. I think you'll come to quickly approve of this one.

This is the everyday wine at Claouset. The range improves from here. But you know me, I like finding the great value in the everyday bottle. And this one is it!

The Bubbly

Vadio Espumante Branco Solera NV, $29--THIS wine right here, was hands down my favorite from a week jaunt in Portugal during March 2020. Wow.
Produced from bical, baga and cercial, each plot is harvested individually during the morning, followed a gentle whole bunch pressing. The fermentation takes place totally in barrel and the aging on lees is promoted for about 6 months. The aroma has great complexity and elegance, as a result from the solar aging. It is dominated by nuts, notes of crystallized fruit and a slight salinity. The palate is creamy and rich with a balanced acidity and a lot of depth.
The Reds

Mas Seren Lilith IGP Cevennes 2017, $24--Old Vine Grenache (50%) and Cinsault (50%) comprise this wine--a savory, mouthfilling, ample red grown deep in the Cevennes countryside. For me there is no better value in the Languedoc. If this wine said "Chateauneuf" on the label it would be 3x the price.

And, it's amazing what has been created here simply using fiberglass tanks. Not a splinter of oak to be found. Plump, juicy, round, and complex. What more could you want?

La Paroisse Cote Roannaise Coupe de Foudre 2019, $22--This cuvée called 'Coup de Foudre' is made from some of Jean-Claude's "medium-aged" Gamay vines--in this case about 80-110 years old, and in a style that was favored by his father and grandfather before him. In this case it means a 1 year aging in old, upright barrels (foudres) to allow a silky, warm mouthfeel that gives way to layers and layers of concentrated Gamay fruit. A very ripe, juicy vintage in 2019 gives a very fine wine that will make many of you pay more attention to this part of France, especially given the price!
Contrada di Sorano Barbera d'Alba 2019, $21--Great Barbera! Nuf said?