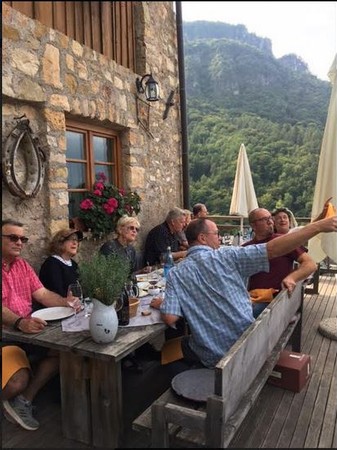 CorksCru Sampler
We have a vested interest in the farmers and winemakers we meet, the wines they make, and the stories they have to tell. As of this writing we're working directly with about 50 wineries in France, Spain, Portugal and Italy, and over the past year about 50,000 or so of their bottles found their way into our warehouse and then out into your car or onto a UPS truck. Thank you!
Lately there is a clear movement afoot toward fruit-forward, lower alcohol wines--especially from grape varieties that used to be pejoratively described as "light" (whatever that means)--like Gamay, Pinot Noir, and Barbera. We love them all here!
With this six-pack you'll be introduced to a mix of some our favorite red wines. Get to know us in just a week or two with this nice half dozen bottles from all over Europe.
Terra Remota 'Camino' 2016, $26--Camino 2016 is a 'rocking' good wine--quite fine for a warm-climate red wine, yet Catalan through and through with a saturated color, a wonderful vivacity, and superb length. Easily one of the best wines we import.
Clos de Mez Fleurie 'Mademoiselle M' 2017, $24--Marie-Elodie Zighera is doing something unusual in Beaujolais--making Gamay into something that more resembles find red Burgundy. Her "welcome mat" bottling is pure, elegant and refined.
Alemat Croatina Brunaldo 2014, $35--A small portion of Alemat's vineyard is cultivated with an important grape called Croatina. It is from these vines that they make a very small production of BRUNALDO, no more than 1600 bottles per year. Croatina is a grape more common in North Piemonte, in Oltrepo pavese and in Colli Piacentini than in Monferrato. A small percentage of Croatina can also be sometimes found also in Amarone wine.
Monte Branco Alento Tinto 2017, $16--The Adega Monte Branco is everything I love in the spirit of a young winemaker with energy, passion, and a determination to create something special and long lasting. I just love this plump, wild-fruited, opaque wine. The schiste soils give a haunting minerality, but the warm, dry sun of the Alentejo makes for a rich, succulent, saturated wine. A beautiful bottle to enjoy year round.
Puits de Compostelle Pinot Noir/Gamay 2015, $16--Our continued support of the little guy is best on display right here. Emmanuel Rouquette farms a mere 8 acres in the Burgundian countryside on the east side of the Loire. It is a pastoral and special location that yields wines that are pure country, but also purely wonderful. This could be your house everyday red.
La Casaccia Barbera Giaunin 2017, $17--Twenty years ago Giovanni Rava and his wife Elena Bassignana acquired an 18th century abandoned villa named La Casaccia (almost literally translated as "that shitty little house") and gradually restored the main building and brought back into production the impressive subterranean cellar excavated into the local volcanic rock. This is their flagship wine, a lively and elegant pure Barbera.