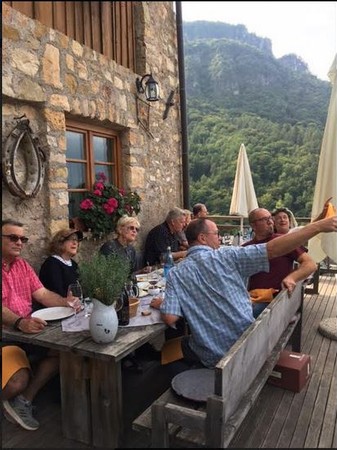 CorksCru Sampler
A Vinous Tour de France
We have a vested interest in the farmers and winemakers we meet, the wines they make, and the stories they have to tell. As of this writing we're working directly with about 50 wineries in France, Spain, Portugal and Italy, and over the past year about 50,000 or so of their bottles found their way into our warehouse and then out into your car or onto a UPS truck. Thank you!
With this six-pack you'll be introduced to a virtual "Tour de France" of some of our best reds, whites, and bubblies. Get to know us in just a week or two with this nice half dozen bottles from the six corners of France. With FREE SHIPPING.
We start in Alsace, traverse the Loire, head south to Bordeaux, then to the Roussillon, over to Languedoc, and finish in Burgundy. That's a good trip!
The White
Francois Baur Riesling Herrenweg 2016, $21--Coming to love, enjoy, and appreciate Riesling is a very necessary step in the evolution of every wine lover. It's too bad there's such a negative connotation about Riesling. The mere mention of the variety makes many people screw up their face like it has been suggested they drink a cool glass of flat Mountain Dew laced with rocket fuel.
I would put Alsatian Riesling up there with other great whites of France like Chardonnay from Chablis, Chenin Blanc from Vouvray, and Sauvignon from Sancerre. Here's one to try that I think will be as surprising to you as it will be delicious.
The Bubbly
Les Hautes Noelles Perles de Noelles, $25--This sparkling treat doesn't exist. The small quantity Jean-Pierre makes each vintage is sold exclusively from his tasting room. We were lucky enough to beg and plead and he agreed to cut a little loose to our best customers.
Close your eyes and imagine a finely tuned, delicately bubbled sparkling wine. Bone dry to its core, refreshing and delicious, and a dead ringer for a wine of twice the price. Pass the oysters?
The Reds
Ipsum Pure Cabernet Sauvignon 2018, $18--The Domaine de Claouset Ipsum Pure Cabernet is just flat out delicious--a veritable salad bowl of red fruits, framed with a nice dusty tannin. This is one of those bottles I would put someone's hands that wrongly believes all Bordeaux sucks. Why? Because it proves in fact, that um, all Bordeaux does NOT indeed suck. In fact, this is a remarkably structured wine.
This is a new everyday wine from Claouset and is impossibly good for under $18. The range improves from here. But you know us, we like finding the great value in the everyday bottle. And this one is it!
Mas Seren Mintaka 2016, $32--This is Mas Seren's most precious and limited wine. Called Mintaka, Orion's "dark star", it features older vine Syrah coupled with a splash of Grenache crafted together to make a rich, powerful, and seductive bottle of red. A few years ago, over the manner of two weeeks at 30-something wineries in the region, THIS wine stood out above the rest.
The 2016 was a quite limited production due to the spring freeze that naturally limited yields to about half their normal quantity. It is a very fine, but concentrated and opaque wine. ZERO barrels on this beauty. Lovely, complete, and delicious.
Clos de Mez Fleurie "Mademoiselle M" 2017, $24--This is Beaujolais, but I wouldn't call this anything close to resembling the teeth-coating, slightly spritzy, cotton candy kinda Beaujolais that is dominating the market. Marie-Elodie Zighera's wines are always lively, finely-layered, and filled with finesse. I find this bottle to be made more like Pinot Noir, and less like tooty-fruity Beaujolais.
Cru Beaujolais has become the darling of Paris bistros and wine bars. One can't walk into one without seeing happy diners glubbing the stuff down. I imagine that once they glom onto what Marie-Elodie is doing there won't be much of this delicious juice to go around.
Domaine de Roquemale Lema 2016, $25--Dominique Ibanez and Valerie Tabaries began Roquemale in 2001, having searched high and low looking for just the right place. They had their "love at first sight moment" when they drove under the viaduct arches and stood among Roquemale's old vines and olive trees. The magic of that day translates well into their delicious bottles of wine.
Lema comes from old vine parcels of Syrah and Grenache, with a splash of Mourvedre mixed in for color and brightness. It is a wonderfully concentrated and somewhat rustic wine that is ready to drink but will perform well for 5-7 more years.
FREE SHIPPING on all orders