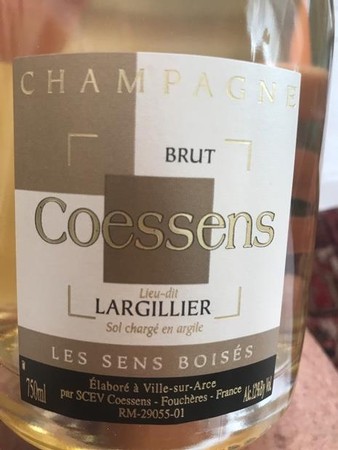 Coessens Les Sens Boisés Champagne NV
This is a warehouse raid from my friend Scott Wright, the Burgundy and Champagne specialist in Oregon. It is one of my favorite bubblies he imports and I'm really happy to score a case! Here are Scott's notes on Coessens:
Jérôme Coessens took over the tiny family estate in 2003, and is one of Champagne's brightest young stars, on the cutting-edge of viticulture and winemaking in Champagne's southern frontier – the Aube. I first met Jérôme at his winery atop Ville-sur-Arce – a non-descript metal pole-barn that houses his production facilities as well as a large pressing operation for dozens of other vignerons in the village. He makes micro-amounts of wine. Each cuvée is meticulously crafted. These may well be the most intense Champagnes you will ever run across – there's a purity and precision to his wines, and he'll tell you that it all stems from his unique vineyard. And I'll tell you that he's right.
Most Champagne is also a blend of two or more of the Champagne grape varieties (Chardonnay, Pinot Noir and Pinot Meunier). At Coessens, there is only one grape, Pinot Noir. One vineyard, one grape, old vines, and a young vigneron. Put them together and you get the intensely beautiful wines of Champagne Coessens.
This particular cuvée is made by aging the wine for a year in used Grand Cru Chablis barrels. This special way of making wine gives the finished juice its apt name--a sense of woodsiness. I hope you enjoy this fine bottle of Champagne!