Chateau de Brau Cabardes Rosé 2019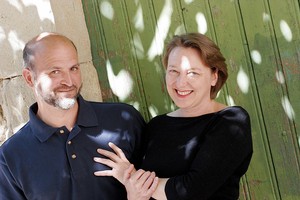 I was at first attracted to the wines of Chateau de Brau when I stumbled onto their website earlier in the year. Proprietor Gabriel Tari is pictured front and center with the caption "No, No, and No again!"prominently displayed. What follows is something of a diatribe on what working naturally means to him. "There are no prestigious ruins", "not every vintage is exceptional", and "organic farming isn't just a matter of doing nothing while the weeds grow."
Say it some more, brother!
I liked Gabriel and his wife Wenny before we even met. Then when we did finally meet, the like turned to admire, and since then the admire has turned to adore. I adore what the Tari' are doing in their little corner of the south of France. Carcassonne is only 30 minutes away, the Pyrenées and the Montagne Noir loom in the distance. Their home is equidistant from the Mediterranean and the Atlantic. In fact, their appellation, Cabardès (KAH-bahr-dez), lies on almost a continental divide, or fall line between the seas. Neat stuff, and more on that in the future.
Living here would not be a burden.
When I arrived for a visit in April Gabriel greeted me on the forklift, he was in the middle of bottling. He looked at me as if to say, "see, winemaking isn't all so romantic, eh?" Then Wenny found me and suggested he would put me to work if we didn't hightail it to the tasting room. I kind of actually wanted to help but once looking around at how clean the place was,viewing the garden-like vineyards, and sensing something special in the air, I wanted to try some wine.
Legally in Cabardès it is required to blend a combination of Atlantic grapes (Franc, Sauvignon, Merlot) with Mediterranean (Grenache, Syrah, Cinsault, and others). Its one of the thousands of quirks to French appellation laws, and one of the more unique in my mind. Such is the case with Gabriel's 2016 Cabardès. Cabernet Franc and Merlot go to work with Syrah and Grenache to make a truly wonderful country red wine.
This wine really hit home for me when I last visited with Wenny and Gabriel. After leaving I went to a small wine bar in Carcassonne and ordered a glass of house red. What did I receive? You guessed it. The ultimate wine bar red! Get yours now.
Wine Specs
Varietal
Grenache/Syrah/Cabernet Sauvignon