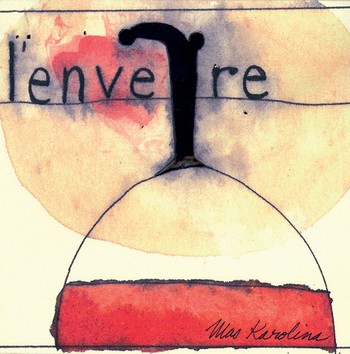 Cellar Cru Red/White Mix Sping 2020
A pair of Italian Reds, and the return of an old favorite from the rugged south of France are the backbone of this quarter's Cellar Cru mix. And for the whites, a blast from the past Sancerre and a gorgeous old-vine Burgundy lead the way, with the white counterpart to that rugged south of France of red.
Without further ado:
Mas Karolina L'Enverre White 2017--Caroline Bonville's white L'Enverre is the realshow stopper. Made from 70 year-old Macabeo and Grenache Blanc vines and raised for 18 months in big old Burgundy barrels, it offers the weight of a Cru white burgundy, yet the freshness of the windswept Roussillon. A really remarkable bottle.
Pinard Sancerre Blanc 'Flores' 2018--Vincent Pinard has one of the most curious names in all of winedom. 'Pinard' is a French slang word for a typically glass of 'plonk'--whatever kind of junk wine the bar can find! But Vincent's Sancerre are anything but. From a vineyard planted in the 60's, this cuvéee is Vincent's first bottling every year, often selected to showcase the vintage. I really love the teeth-rattling minerality here, coupled with an astounding richness--the fingerprint of all Pinard wines.
Champs d'Abbaye Mercurey Blanc La Brigadiere 2017--A truly magnificent example of single-vineyard Chardonnay. From a lovely estate farmed biodynamically by Alain and Isabelle Hasard. Another lovely example of the stingy yield from old vines, coupled with a hands-off approach to winemaking. I love the honeyed richness here, combined with an almost smoky/flinty aroma. A nice new discovery.
La Perla Valtellina Riserva Elisa 2013--Not to be outdone or overlooked, as another cellar raid, this one from the far north of Italy in the sub-Alpine Valtellina. Here, Marco Triacca and his father grow Nebbiolo on a 40 degree slope and coax out gorgeous wines from super-stingy yields. The high elevation and cool climate yield a wine with unusual complexity, almost Pinot Noir-esque. You could forget about this one in your own cellar for another 5 years if you wanna be patient.
La Salceta La Nocetta IGT Toscana Rosso 2016--Here's a 4-year old wine that looks like a relative baby compared to the above. La Nocetta (a local hunting term) is Ettore Ciancico's stab at a so-called Super Tuscan (a term I generally dislike). He blends the ubiquitous Sangiovese with the lesser-seen Cabernet Franc to make a somewhat powerful wine, but also in a very refined style. Interestingly, the wine as completely raised in steel vats, no oak whatsoever, and bottled after two years of continuous racking in order to avoid "off aromas" and reduction.
And one French red...an new vintage of an old favorite!
Mas Karolina L'Enverre Rouge Cotes-du-Roussillon 2018--Here we have a winemakers' blend of old vine Carignane and Grenache, all from the schiste-strewn vineyards of Maury, and from vines of between 50-90 years old. L'Enverre is a play on words that means "upside down"--the condition you'll find your glass as you try to get every last drop onto your tongue. This is a saturated, instense, almost black/purple wine guaranteed to stain the teeth a little.