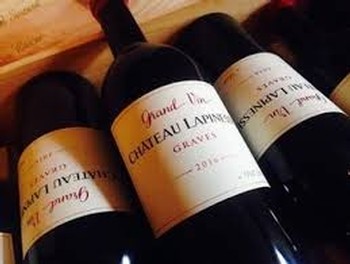 Cellar Cru All Reds Summer 2020
This quarter's Cellar Cru includes something from all the countries where we work--France, Italy, Spain, and Portugal. I wouldn't hesitate to open a single one, but also wouldn't think twice about burying any of these for the next 5-10 years. I hope you enjoy!
Lapinesse Graves Rouge Grand Vin 2018--Grand Vin. What's embedded in that name, anyway? In Bordeaux, the answer may shock you. Nothing. There is absolutely no rule, or law, or standard, that applies to using those two words on a label. Yet, there they are in their full glory, a needed expectation for any Bordeaux drinker/lover/buyer.
I would run out of superlatives fast for this wine. David Siozard gave me a bottle to bring home following our visit earlier this year and Mrs. Cru and I dug into it a few weeks later on an atypically cool summer evening. She's not really even a Bordeaux fan, but this one had all the goods, and she was sold. I think you will be too.
La Perla Valtellina La Mossa 2014--The young winemaker Marco Triacca is a handsome thirty-something Swiss Italian that inherited a few hectares from his father in 2009 and began his own winery a few years later. I would say that what Marco is doing is growing "extreme" Nebbiolo. There are no gently rolling hills here. In fact, the Valtellina seems only a few kilometers wide, flanked by steep terraces, craggy rocks, and houses that appear to jut out of the cliffs.
This pure Nebbiolo, called La Mossa, is aged up to 3-4 years in older oak barrels. It is as pure as the Alpine wild herbs found just up the steep mountainsides, and will reward you in a really large glass alongside a pasa dish with fresh wild mushrooms.
Adega Monte Branco 2016--The Adega Monte Branco is everything I love in the spirit of a young winemaker with energy, passion, and a determination to create something special and long lasting. This is Luis Louro's top wine, from the remarkable 2016 vintage. Over a 3 hour lunch this bottle unfolded into a miracle of complexity, depth, and finesses. I've already stuffed away a 3-pack of this gorgeous stuff into my cellar at home.
Terra Remota Clos Adrien 2016--This is a solitary, captivating spot that appears to be far removed from the rest of the world, and explains the name Terra Remota. Paradoxically, despite the remoteness of the location, this area has been occupied by human communities since ancient times. Thus, remains of settlements belonging to the Iberian culture have been documented in the region, which goes to prove the long history of the human presence in this territory. In recognition of this, for its logo, Terra Remota has used two symbols attributed to these ancient communities, engraved on blocks of granite: O+
Clos Adrien is crafted from pure Syrah, and aged for 18 months in French oak. It is an impressively built wine and meant to be drunk with a special meal.
Francois Baur Pinot Noir Sang du Dragon 2017--When I first began importing in the mid-90's I would come across an Alsacienne winery now and then that would have a tiny "house" quantity of red wine to show off. The winemaker would proudly pour a barely pink liquid into the glass and announce the future. With a silent eye roll, we would dutifully taste, make a routine comment, and ask to return to the Grand Cru Riesling.
But over the past quarter century the future has arrived. Those pale Pinots of the 20th century have morphed into the shimmering, garnet red offerings of the 21st. Perhaps nowhere in France has the spectre of global warming taken such full effect in so short a time. Pinot Noir is now an annually reliable, and wonderful, thing in certain parts of Alsace. And it's time to pay attention.
Clos de Mez Morgon Chateau Gaillard 2017--Morgon "Chateau Gaillard" comes from a small vineyard owned by 4 generations of Zighera women and for my money, is the crown jewel of the appellation. At first, this wine revealed a smoky, leafy aroma but after 10 minutes was singing with exotic and dried fruits, a whiff of truffle, and an intense black cherry. One of the finest examples of Cru Beaujolais to ever cross my lips.