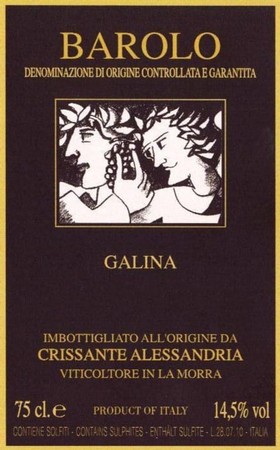 Cellar Cru All Reds Spring 2020
This quarter's Cellar Cru includes one of our great library raids of all time! Here it is, plus five other gems to enjoy this year when you're hunting an extra special bottle to serve:
Alessandro Crissante Barolo Galina 2008--Alberto Alessandria began working on his family's vineyard twelve years ago, in 2008. This was the first vintage he saw through from bud break to harvest and holds a special fondness for him. When I aksed for something special for this club, he hardly hesitated. One of the finest examples of aged Barolo I've had in years. Full stop Wow.
La Perla Valtellina Riserva Elisa 2013--Not to be outdone or overlooked, as another cellar raid, this one from the far north of Italy in the sub-Alpine Valtellina. Here, Marco Triacca and his father grow Nebbiolo on a 40 degree slope and coax out gorgeous wines from super-stingy yields. The high elevation and cool climate yield a wine with unusual complexity, almost Pinot Noir-esque. You could forget about this one in your own cellar for another 5 years if you wanna be patient.
Giovanna Tantini Ettore IGT Veronese Rosso 2012--Another cellar raid! Ettore is made a little like Amarone. Corvina is left to dry for a short time on the vine, almost 3 weeks. Then, when it's brought to the winery, Giovanna blends it with some Merlot for plumpness and roundness. I generally don't go for Amarone, but this wine was bold and complex without all that mouth-puckering tannin and stewed plum. Six years in bottle doesn't hurt either! A very limited production wine of only a few thousand bottles produced each year.
La Salceta La Nocetta IGT Toscana Rosso 2016--Here's a 4-year old wine that looks like a relative baby compared to the above. La Nocetta (a local hunting term) is Ettore Ciancico's stab at a so-called Super Tuscan (a term I generally dislike). He blends the ubiquitous Sangiovese with the lesser-seen Cabernet Franc to make a somewhat powerful wine, but also in a very refined style. Interestingly, the wine as completely raised in steel vats, no oak whatsoever, and bottled after two years of continuous racking in order to avoid "off aromas" and reduction.
Poggio al Sole Chianti Gran Selezione Casasilia 2016--The Davaz' make only Chianti Classico for reds, each of their bottles adorned with the famous black rooster (gallo nero) that signifies the denomination. In fact, local wine people come to their vineyard, the most well-known viticulturists included, and claim that their vines are among the best 3 or 4 sites in all of Chianti Classico. For sure they are among the highest, situated almost precariously on a forested mountaintop.
And one French wine...an new vintage of an old favorite!
Mas Karolina L'Enverre Rouge Cotes-du-Roussillon 2018--Here we have a winemakers' blend of old vine Carignane and Grenache, all from the schiste-strewn vineyards of Maury, and from vines of between 50-90 years old. L'Enverre is a play on words that means "upside down"--the condition you'll find your glass as you try to get every last drop onto your tongue. This is a saturated, instense, almost black/purple wine guaranteed to stain the teeth a little.