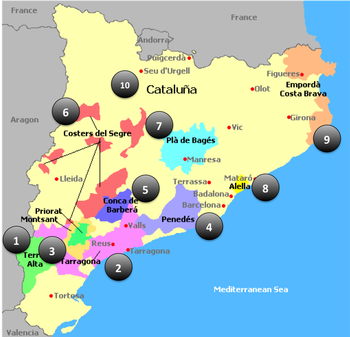 Catalan Pick 3
Catalonia is a thoroughly exciting region for lots of reasons--architecture, beaches, markets, food. But I contend that for wine it holds its own unlike almost any other region in the wine world. One can fill a whole menu, or wine store without leaving its boders. Red, white, rosat, bubbly, old, young, dry, sweet--Catalonia has it all.
With the 3-pack we'll introduce you to a few of its alluring reds, starting at the French border near Girona and ending up back near the sea in Tarragona.
Here they are:
Mas Bella Negre 2016, DO Tarragona ($14)--a dark-fruited Tempranillo, locally called Ull de Llebre (the rabbit's eye), packed and loaded with richness, yet made without barrels to protect its freshness. Perfect with your summer bbq.
Comalats Cabernet Sauvignon "Alosa" Jove 2016, DO Costers del Segre ($16)--A wonderful pure Cabernet, redolent with blackberry, cedar, and wild herbs. A classic wine of the area. A young, but structured wine, meant to drink now or over the coming few years.
Mas Abundancia "He Ma" 2016, DO Montsant ($15)--Montsant at its very best. A succulent blend of Grenache, Carignane and Cabernet Sauvignon grown on the schiste (slate) soils on the border with Priorat. This one tastes like twice the price.
And there you have 'em. A delicious 3-pack for just $39. Or, make it a 6-pack or more for just $37.50/each!
2 or more units
$37.50/unit