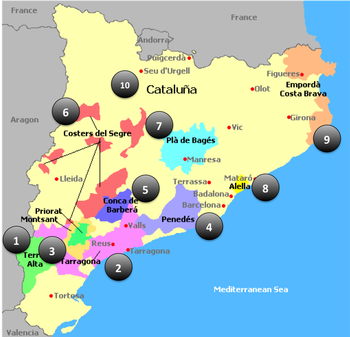 Catalan Pick 6
*Pre-Arrival Offer
Catalonia is a thoroughly exciting region for lots of reasons--architecture, beaches, markets, food. But I contend that for wine it holds its own unlike almost any other region in the wine world. One can fill a whole menu, or wine store without leaving its boders. Red, white, rosat, bubbly, old, young, dry, sweet--Catalonia has it all.
With the 6-pack we'll introduce you to a few of its alluring reds, starting at the French border near Girona and ending up back near the sea in Tarragona.
Here they are:
Terra Remota Camino 2014, DO Emporda ($24)--a dark and chewy but very elegant Cabernet/Syrah/Grenach blend that just screams out for a meal of roasted meats and grilled vegetables.
Comalats Cabernet Sauvignon Reserva 2005, DO Costers del Segre ($24)--Ten year-old Cabernet grown on the wide open plains of the Segarra near Lleida. An unusual and perfectly aged red that smokes many Bordeaux at twice the price.
Mas de l'Abundancia Flvminis 2014, DO Montsant ($24)--Jesus del Riu Mateu admits he is more of a chef than a winemaker. So, he makes the paella, and his friend Andreu takes care of the winemaking. Cabernet and Grenache work beautifully together here--dark, rich, and complex.
Sao del Coster 'S' 2015, DO Priorat ($25)--Xavy and Michelle believe that Priorat can be enjoyed in its youth, not just after 5 years in bottle. They make 'S' in this manner--unmistakably Priorat, yet perfectly ready to drink. Loads of dark fruit, chocolate, and some earthy stuff for balance.
Mas Bella Crianca 2014, DO Tarragona ($24)--Elisa Ribes is the lead oenologist for the entire denomanition and as such she tastes every single wine that bears its name. She's too modest to say her wines are at the top. But others I agree, Mas Bella is the leader in this part of Catalonia. Pure tempranillo with a soft, pretty style.
Mas de l'Abella "Abellars" 2012, DO Priorat ($29)--Ramon Alzamora is a dental technician during the week, and and winemaker on the weekends. Many of you know his Priorats already but you don't know this 2012 yet. What a wonderful and complete wine! Priorat with some bottle age at its affordable best.
And there you have 'em. Some old wine, some young wine, some fruity wine, some earthy wine. Regularly priced at $150, all yours for just $99 on the 6-pack.