 Camarette Tentation Syrah 2020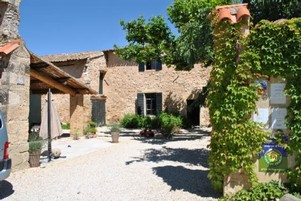 Sisters Nancy and Alex Gontier run the fantastic Domaine de la Camarette in the shadow of Mt. Ventoux. Their farm consists of vineyards, olive groves, fruit trees, woodland, and a kitchen garden. Its not far from the bustling city of Avignon and if you listen closely enough you can hear cars on the autoroute, but this place is all about peace and tranquility.
There may be no better value in French wine today than the Ventoux. It lies in the shadow of top Rhone wines like Gigondas, Vacqueyras, and the esteemed Chateauneuf-du-Pape. But with prices for those wines broaching the $75 price tag, why bother?
I ate a meal at Camarette recently and started with a glass of their appropriately named Armonia, a truly lovely white wine that whet the appetite, and wakened my tastebuds. It's a true kitchen sink white crafted from Ugni Blanc, Rolle, Grenache Blanc and a splash of Viognier.
If there's a red in this quarter's mix that is meant as an everyday, crank-it-down, whatever reason bottle--this one is it!
Don't be fooled by the low price tag on this wine. It was made in small quantity, handcrafted, and drinks more like a far more stylish French red wine from the neighboring Rhone, than the Ventoux typically offers.