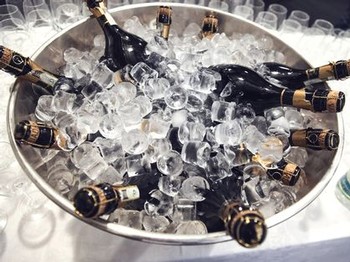 Bubble Bath 3-pack
Three bottles of our best bubblies!
Domaine Baur Crémant d'Alsace Brut Réserve NV
It was at the "Caveau de Vigneron", over a salt-crusted beef dish and some creamy potatoes, that I began tasting Thomas' wines. He knew what he was doing by having me do this. Outside of tasting directly in the vineyard, there's no better way to enjoy wines like these--with a big plate of good stick-to-your-ribs food.
There is no better refreshing treat than a "coup de Crémant" before, during, or after a meal. And Thomas' takes the cake. Often an afterthought for many an Alsatian winery, this one almost seems like Baur's flagship wine, with more farming detail going into the bottle than is typical. Thoroughly delicious.
Les Hautes Noelles Perles des Noelles NV
This sparkling treat doesn't exist. The small quantity Jean-Pierre makes each vintage is sold exclusively from his tasting room. We were lucky enough to beg and plead and he agreed to cut a little loose to our best customers.
Close your eyes and imagine a finely tuned, delicately bubbled sparkling wine. Bone dry to its core, refreshing and delicious, and a dead ringer for a wine of twice the price. Pass the oysters?
La Camarette Bulles de la Camarette Rosé NV
Sisters Nancy and Alex Gontier run the fantastic Domaine de la Camarette in the shadow of Mt. Ventoux. Their farm consists of vineyards, olive groves, fruit trees, woodland, and a kitchen garden. Its not far from the bustling city of Avignon and if you listen closely enough you can hear cars on the autoroute, but this place is all about peace and tranquility.
There is one place to enjoy this delightful sparkling wine--an unusual treat from this part of France--the fine restaurant at La Camarette. Hugues, the husband of Nancy, is a recovering Micheline star chef that "retired" to the country to open a humble auberge with local ingredients and a laid back atmosphere. Here's the wine that starts every meal, a barely pink sparkler made from grapes grown right outside the restaurant door.