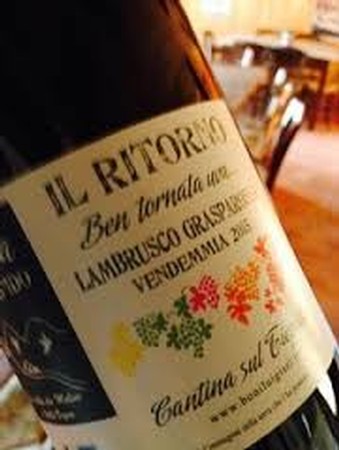 Boni Luigi Il Ritorno Lambrusco
Boni Luigi is our kind of guy. Upon arriving at his hilltop winery about an hour from Bologna the first order of business was to discuss lunch plans. Welcome to Italy.
Lambrusco is one of those polarizing wines that shouldn't be. The problem most likely is memories of Riunite in a gallon jug that was sweet, green, and more like sparkling iced tea than real wine. We've been on the hunt for the opposite, and with Boni's whopping 1 hectare Il Ritorno parcel, we struck red, sparkling gold!
When I told a friend of mine that I was heading to Emiglia-Romagna to find some sparkling wine he playfully chided me: "You're looking for Brooklyn wine bar headache juice? Good luck with that." But what I found at Boni's was instead something far more for farmhouse, far more handmade, and exponentially far more awesome.
Boni farms and makes this wine for a neighbor, and makes only 1000 bottles. When I tasted it on a cool, check that, cold, February day it somehow seemed appropriate to quaff it down nice and cold, even standing around his space heater to stay warm. Lambrusco is like that I guess, at once refershing and lively, but at the same time, still red wine! Perfect all year round.
Boni and I took this bottle to a nearly empty lunch spot in the next village and cranked it down with some ham, salami, polenta, and tuna-filled pasta. It worked.
Do we have here the most food appropriate wine in our lineup? I wonder...
NOTE: This Lambrusco is secco, nice and dry, yet still not too much alcohol, topping out at 10.5%. I'd propose to drink it between now and the end of the year.
Wine Specs
Appellation
Emiglia Romagna