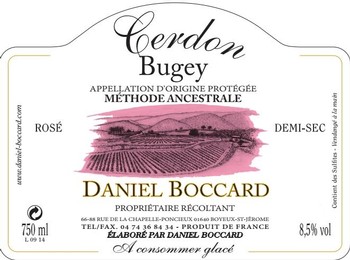 Boccard Cerdon Bugey NV
Pre-Arrival Special Offer
This item is currently out of stock.
There is no more FUN wine in the world than a good glass, or four, of Cerdon Bugey. For the unitiated, this means three things:
Sparkling

Rosé

Low Alcohol
A Cerdon Bugey is refreshing, lively, easy to drink, and festive. There's no bad time to drink it and one is thoroughly bummed when their stock is depleted. Grrrr...
The wine is made in an 'Ancestrale' style--fermentation in the bottle over the winter, and usually ready to drink the next Spring and Summer. This is not Champagne by any means, but it is a wonderful sparkling wine of uncommon wonderment.
The mountain grape Gamay runs the show here creating a fruity, juicy, somewhat minerally wine grown high in the mountains of the Savoie, not far from jagged peaks of the Alps and Switzerland.
You'll enjoy this quaffable sparkler with just about anything, anytime. Open it when guests arrive, crack one after mowing the lawn, or bust out a bottle with cheese and dessert.