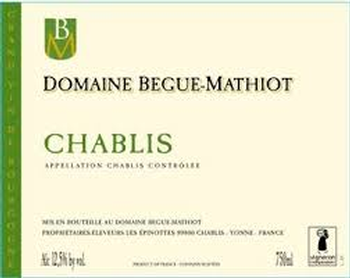 Begue-Mathiot Premier Cru Chablis 3-pack
Pre-Arrival Special Offer
4 or more units
$81.00/unit
During my last trip to France I tried and tried to find a way through the door in Chablis. Instead, I found lots of dead ends. Seemingly, there aren't many NEW projects in Chablis like I find in many other regions in France. Most producers have relationships with importers already, and considering the volume of Chablis on the market it feels almost closed to outsiders. Ultimately I figured something would come up, perhaps in the outskirts of the appellation or some kind of up-and-comer.
But then the name of Guylhaine Begue-Mathiot came across my email, referred to me by another winery we're already working with. Guylhaine (Ghee-len, a hard G) was interested to meet us and we eagerly set an appointment. Her winery is about 3km from the very center of Chablis--hidden in plain sight!
Guylhaine's father Joel entered into Chablis proprietorship in the mid-80's, having worked for a decade as a tacheron, (a la tache, meaning: by the task), a common working contract among Burgundy viticulturalists. In 1985 he managed to acquire 3 hectares and along with his wife Maryse grew their holdings to 12 hectares over the next 15 years--many in Premier Cru Vineyards.
Guylhaine is quite shy and reserved, in some ways apologetic about her wines, and eventually admits that she didn't think they would suit the American palate. Why? Probably because there's not a splinter of oak in the whole winery--each wine is vinified and raised in tank and bottled as early as possible to preserve freshness and brightness.
Here are three of Begue-Mathiot's different 1er Cru Chablis, from a variety of the past vintages. Don't hesitate to open any of these beauties right away, but if you can properly cellar them, 5-10 years would do nicely! What a score:
Chablis Vaillons 2018: Guylhaine's largest vineyard, just over 1 hectare and the bottle she is most well known for. A wondeful balance of richness and acidity. Everything one could want in minerally, racy Chablis. (regular $33)

Chablis Fourchaume Vieilles Vignes 2017: The jewel in the Begue-Mathiot crown--a thorough and complete white wine with a creamy, yet lively mouthfeel. My mouth is still waters from the memory of this wine! (regular $39)

Chablis Fourchaume 2015: Rich, structured, and layered. Totally brimming with power yet not short on finesse. Hard to believe this is a tank-made wine. Nice and supple and fatty. (regular $36)