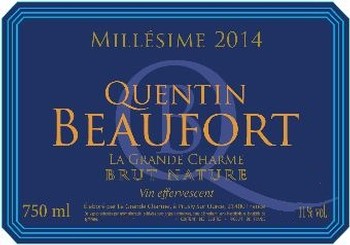 Beaufort Grand Charme Brut 2014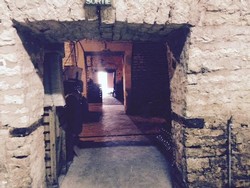 Alice and Quentin Beaufort took possession of a 19th century wine cooperative near the village of Prusly-sur-Ource in 2007 and have never looked back. The building itself since in the middle of a grain field in the rolling Burgundy countryside. Its at once somewhat stark but also quite beautiful. About 10 minutes up the road is Champagne. And naturally, sparkling wine is the Beaufort'sraison d'etre.
Truth be told there are no weaknesses in the Beaufort lineup. Their organically farmed 8 hectares yield delicious Pinot Noir and Chardonnay fruit. Their work in the winery is clean and impeccable. Over the course of a 3 hour tasting this past August I just couldn't figure out why no one knows about them. And that's a shame because their wines, in my mind anyway, ARE Champagne. It would be a challenge for anyone to sneak these bottles into a Champagne tasting and know the difference.
But alas, there must limits somewhere. One of the Beauforts vineyards sits on a hillside just opposite of the neighbors--in Champagne. One could make the walk in three minutes.
There are three bottles to introduce you to from Alice and Quentin and they're conveniently wrapped up here as a little coffret, a one-of-each three-pack so you can try them all.
Le Grand Charme 2014 is a Pinot Noir/Chardonnay blend with a toasty edge and remarkable richness from a low yield vintage. (and a vintage from which we'll purchase a lot more!)
Wine Specs
Varietal
Pinot Noir/Chardonnay
Appellation
Vin Mousseux de Qualite