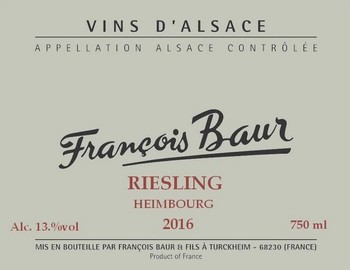 Baur Riesling Heimbourg 2016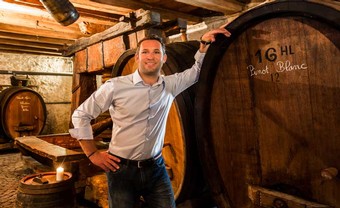 Each February I do my annual "Tour de France" of wineries. It's a chance for me to catch up with winemakers, see what's on deck, and maybe get introduced to some new faces. But this year, I took along company.
Over 2 weeks Norm, Yamile, and I stopped at 31 wineries, tasted over 300 wines, put on about 5500km, and ate more than a couple of darn great meals. And on our last night out, Norm looks at me and asks, "So what was your favorite wine of the trip?"
Oooh, gauntlet thrown down!
I never think about my winery visits that way, you know? I'm looking for moments of conviviality, laughter, and storytelling. However, it took me about 10 seconds of reflections and then I blurted it out--confidently, and assuredly:
Baur Riesling Heimbourg 2016
And do you know what he says? "I knew it. I could see it in your body language." I guess I don't conceal things very well.
When I go out to a wine bar, this is what I want. First off--it's Riesling--dry, stunning, limpid, and refreshing. Second, it comes from a teeny tiny parcel of old vines situated near the Grand Cru Brand in Turckheim. And last, I just want to drink it--not match it with some gourmand food dish. This beauty is to simply open up, soak in those aromas, and let it linger over an hour or so. You'll still have the taste the following morning.
Truly one of the finest wines of Alsace I've ever had the pleasure of drinking.