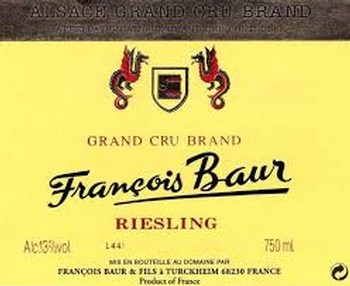 Baur Riesling Grand Cru Brand 'Clos de la Treille' 2006
When I placed our order with Thomas Baur last fall I casually asked him if he happened to have any old Riesling around. He responded a few hours later by telling me that he and his father read my note, and then went to the cellar to grab an older bottle to have with lunch (shouldn't we all be able to do that?). What they came back with was from the year Thomas became the winery's full-time winemaker--2006!
He wrote that the wine was "alive, filled with good fruit, just the right amount of hydrocarbures (petrol), with terrific structure and acidity. The schiste (slate) terroir of the Brand vineyard is on full display. "Do you think your customers would like something like this?"
Um, yes, I think you would.
So, I scored a whole case, just 12 bottles (!) of Baur Riesling Grand Cru Brand 'Clos de la Treille' 2006, just for the dozen folks that are members of this club.
I think I've kind of 'lucked into' something with Baur. They seem like a winery that should be "taken" by some other importer somewhere, but lo and behold, they're not. So I'm going to run with this thing. I love Alsacienne wine, and I think wineries like Baur need more fans and disciples out there. There's truly something different that one could drink every night--old wine, young wine, dry wine, sweet wine, sparkling, some pretty decent reds--you name it.
This one might be the top of the mountain though. A rare treat for sure.