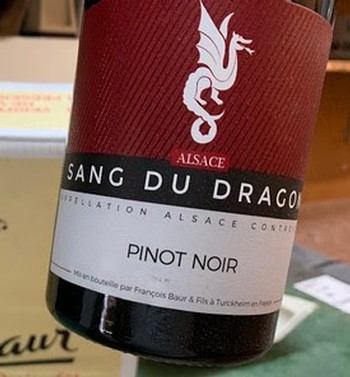 Baur Pinot Noir Sang du Dragon 2017
When I first began importing in the mid-90's I would come across an Alsacienne winery now and then that would have a tiny "house" quantity of red wine to show off. The winemaker would proudly pour a barely pink liquid into the glass and announce the future. With a silent eye roll, we would dutifully taste, make a routine comment, and ask to return to the Grand Cru Riesling.
But over the past quarter century the future has arrived. Those pale Pinots of the 20th century have morphed into the shimmering, garnet red offerings of the 21st. Perhaps nowhere in France has the spectre of global warming taken such full effect in so short a time. Pinot Noir is now an annually reliable, and wonderful, thing in certain parts of Alsace. And it's time to pay attention.
So it was in his sauna-sized barrel cellar (pictured above) last winter that Thomas Baur plunged the pipette into a barrel, and withdrew a tasting of a wine that I could see was truly delighting him. The color was more reminiscent of Syrah, with an almost purple hue, and landed in the glass with a silky weight that was suggesting a wow moment was forthcoming. And then he launched into a story, a local legend actually.
The myth goes that in ancient times, when the Rhine was an inland sea, and the valley was submerged with frigid waters, only the highest parts of the area, the foothills of the Vosges, were exposed to the blue skies and abundant sunshine. A dragon that lived in this glacial Rhine lake removed itself one day from the tiresome frigid waters in order to bask on a hillside to warm itself and take respite. However, the dragon fell asleep, so contented with its newfound comfort, and very quickly the intense sun baked him and his tough skin began to crack, breaking open until blood seeped from its pores and soaked the surrounding landscape.
A nearby cave is where the locals believe the dragon then retreated to take its last breath, its legacy left behind with the amendment of its blood on this sun-baked hillside which is now known as the Grand Cru vineyard "Brand"--arguably the finest site in Alsace for Pinot Noir today.
That's a pretty good story huh?