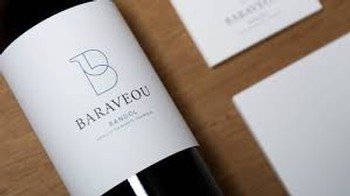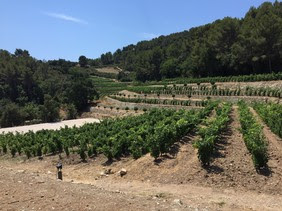 Mourvèdre does all the heavy lifting here, giving a deep, brooding, powerful and concentrated wine that is "seasoned" with small bits of Syrah and Grenache. It is a thorough and complete wine, interesting to drink now of course, but will reward you with 10-20 years of continued enjoyment I think, and maybe to continue a vertical collection if you're into that kind of thing.
50 six-packs arriving in our warehouse in mid-August, and ready for pickup just before Labor Day

All packed in wood boxes and wrapped in red, white, and blue ribbon

Regularly priced at $300 per six-pack, but on pre-arrival at only $240, exactly 20% off

Individual bottles at $45. (prices for Bandol's best wineries--Tempier, Vannieres, and Begude all top $50-60)
This 1.5 hectare vineyard is a jewel. I've never seen anything like it. Jean-Philippe began by planting only rootstock and letting it grow wild for 3 years. He then began the back-breaking and meticulous work of grafting Mourvèdre cuttings (all from heritage vineyards in Bandol planted at least before 1970) directly onto the rootstocks. IN the field! (I've asked around. No one does this.)
To boot, he and a horse do all the work. Baraveou is his home, as well as his evening and weekend job. He is now Tempier's chef de viticulture--he's in charge of all of their vineyards too! All of his production rests in 6 barrels plus one big Stockinger foudre, right inside the Tempier winery. Man, it is a small world.
I'm going to have a lot of stories to tell about Jean-Philippe and his work over the years. But for now I'll say this: Sometimes you meet winemakers that you know just HAVE IT. Well, this guy has it. I can't wait for you to try his wines.