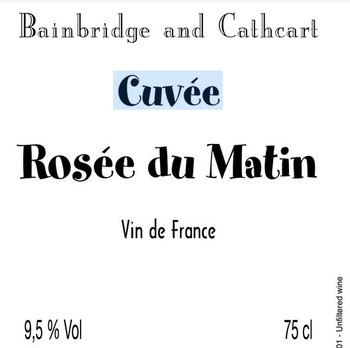 Bainbridge & Cathcart Rosee du Matin 2017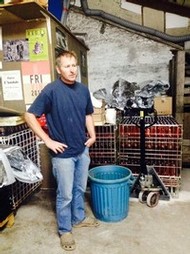 Rosée du Matin is made by an Englishman named Toby Bainbridge. He and his wife Julie live in a quaint village near Angers, the western center of the Loire Valley. I had heard about Toby's work and set out to visit him last April. We hit it off immediately and I returned to see him again six months later. Toby's wines are burned into my mind (and my palate) and I'm so thrilled to have them a part of our lineup.

Toby kicked off his winery business about 6 years ago by purchasing just a few hectares of old-vine Grolleau and Cabernet Franc. His winery is, shall we say, simple. He rents an old machine shed from a neighbor and makes only three different wines. Some of his tanks are wrapped in wool blankets and he makes use of all kinds of gadgets and tools to get his work done. There's nothing fancy here.
Okay, folks. I want you to take a deep breath here. Toby makes wines very, um, pragmatically. As such, he chooses not to fine and filter his wines. (yes, there are some solids in the bottle)
He also makes wines that he want to share with friends. And sometimes that means sloshing out four 6oz. glasses and watching them disappear in 5 minutes. This stuff is slightly off-dry (but that doesn't mean it's cheap!), juicy, organic, and downright fun to drink. Make it ice cold and watch it disappear!
This item is currently out of stock.
Wine Specs
Appellation
Vin de France