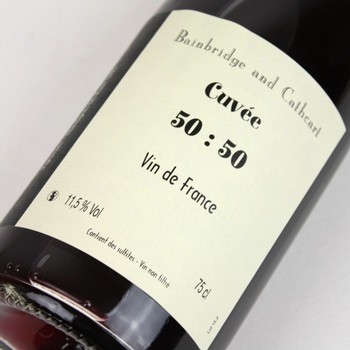 Toby & Julie Bainbridge Cuvee 50/50 2018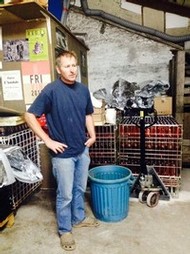 Toby and Julie Bainbridge live in a quaint village near Angers, the western center of the Loire Valley. I had heard about Toby's work and set out to visit him last April. We hit it off immediately and I returned to see him again six months later. Toby's wines are burned into my mind (and my palate) and I'm so thrilled to have them a part of our lineup.

Toby kicked off his winery business about 6 years ago by purchasing just a few hectares of old-vine Grolleau and Cabernet Franc. His winery is, shall we say, simple. He rents an old machine shed from a neighbor and makes only three different wines. Some of his tanks are wrapped in wool blankets and he makes use of all kinds of gadgets and tools to get his work done. There's nothing fancy here.

When we visited together last May Toby showed me a new label and a new wine, simply called 50:50. It blends those two delicious local grapes of Grolleau and Cab Franc. It's bottled in clear glass, showing it's transparent self to the world, and it is simply scrumptious.

Toby's first export market was Denmark. He sold the guy some wine and dutifully headed to Copenhagen to "work the market" and try to make some placements at restaurants. Their first visit, this was five years ago, was at the famous NOMA, Rene Redzepi's gastronomic mecca feautring 20 course meals and generally considered among the top 5 restaurants in the world. Evidently the sommelier tasted the wine, loved it, and proceeded to buy it all. Done deal. Sales day complete. Since then NOMA has been a big regular supporter.

But then we came along, and asked for the same thing! Toby agreed to sell us some bottles, and well, here it is. The first taste will have an oh-so slight prickle, but then the rest of the bottle will turny silky, smooth, and delicious. Drink it a bit cool.