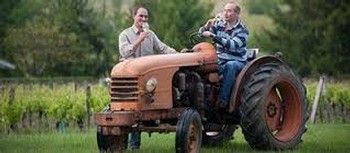 Spring Fling 6-pack of Whites
You'll get one of each of the following whites:
Ampelidae Marigny Neuf Sauvignon Blanc 2016, $14--Over the years Fred Brochet settled on Sauvignon Blanc as the grape that would propel Ampelidae's name. The Haut Poitou sub-region is generally warmer than the famous vineyards of Sancerre, and almost always drier than the humid vineyards of Bordeaux. Sauvignon Blanc from the Poitou can gain richness and complexity while still maintaining clarity, brightness, and freshness.
Chateau de Brau Chardonnay/Roussanne 2015, $13--This is a winery we'll go back to many many times over the years for a range of wines from classic whites, to dry rosé, to ageworthy reds. This unique blend is a remarkable deal considering the northward pricing trajectory on these varieties elsewhere in the world. Wonderful perfume of wild flowers, lanolin, and exotic fruits. Plus, a nice rich mouthfeel without the oaky sweetness!
Puits Compostelle Cotes de la Charité Blanc de Blancs 2014, $15--I was immediately taken by the complexity and completeness of Emmanuel's white wine, playfully called Blanc de Blancs (a sparkling wine term typically). With this wine he carefully blended Pinot Gris, Sauvignon Blanc, and Chardonnay, the latter from old barrels, into a rich but still refreshing white wine. The wine truly is an intersection of Alsace, Burgundy, and the Loire--a really unique bottling for anywhere in France. I think you'll love this just about anywhere, anytime. The Sauvignon gives a citrusy refreshing quality, the Gris gives mouthwatering acidity, and the Chardonnay rounds it out with some flesh and richness. A neat bottle!
Mas Seren Etincelle Blanc 2015, $14--I would call this wine Emmanuelle Scoch's 'welcome mat' to Mas Seren. It combines two of the great "V" grapes in the wine world--Viognier and Vermentino. As with all of Emmanuelle's wines, there is no oak to be found. An all tank fermentation and aging leads to a wine that is bright, aromatic, and lively. Just perfect for warm summer days.
Mas Karolina Cotes Catalanes Blanc 2015, $17--This white wine is hauntingly good. Blended from old-vine Grenache Blanc and Gris with small doses of Carignan Blanc and the local Macabeo, it is it once minerally and quivering, but is also rich and unctuous in the mouth. A hard wine to forget.
Domaine du Claouset Bordeaux Blanc 2016, $13--The Claouset Blanc from 2016 is shockingly delicious--a wonderful blend of Sauvignon and Semillon. Finding a tasty little gem like this is why we do what we do. When we first tasted this wine with David we were sure it would be 50% more spendy than turned out to be. This is the everyday wine at Claouset. The range improves from here. But you know us, I like finding the great value in the everyday bottle. And this one is it!