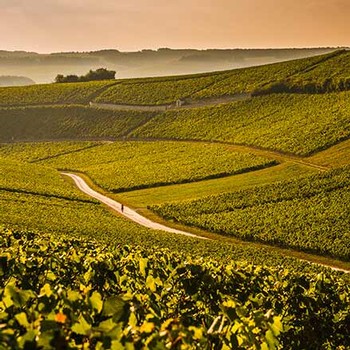 A Trifecta of French Whites
The Best Three Whites Wines of France?
With this 3-pack you'll receive a bottle each of arguably the three best white wines in France: Chablis, Sancerre, and Vouvray. Here they are:
Guylhaine Begue, Domaine Begue-Mathiot, Chablis

Maryse and Guylhaine Begue form an extraordinary mother-daughter winemaking team.
Guylhaine's father Joel entered into Chablis proprietorship in the mid-80's, having worked for a decade as a tacheron, (à la tache, meaning: by the task), a common working contract among Burgundy viticulturalists. In 1985 he managed to acquire 3 hectares and along with his wife, Maryse, grew their holdings to 12 hectares over the next 15 years--many in Premier Cru Vineyards. Following his death a few years ago, Guylhaine assumed the winemaking duties, bringing her own style to the operation.
Pierre Martin, Sancerre
There are 350 independent wineries in Sancerre, 25 grower/negociants, and only 1 cooperative. Over 7000 acres are planted to vines (nearly 80% of the entire surface area) of which 3/4 are planted to Sauvignon Blanc. The appellation has been fully exploited for years by wine lovers and connoisseurs. Finding something new is virtually impossible. Getting a return email is a challenge.
About 5 years ago we called on an energetic young vigneron named Pierre Martin. And he dealt us into the game. We've never looked back. Pierre crafts mouthwatering and complex wines, and they are my ultimate Sancerre for drinking young, and will transport you to this special corner of France via the wine glass.
Mathieu Cosme, Domaine de Beaumont, Vouvray
2018 Vouvray Les Promenards
Mathieu Cosme looks more like a retired rugby player, with his bear-like man-body belying the fact that he is making fine, aromatic, savory, dry Chenin Blanc. He's very clear that he doesn't really like sweet and cloying white wine, but that doesn't mean he doesn't enjoy a little sweet-ness. As such, his wines are actually nice and dry, yet sumptuous on the lips, like a sweet kiss, but limpid and refreshing going down. There's really nothing like them.
A winemaker many years ago told me that understanding Vouvray, and its ubiquitous grape, Chenin Blanc, goes a long way toward understanding white wine in general. The wine is ageworthy, yet lovely in its youth. It can be made dry, semi-dry, sweet, and sparkling. It is the most transparent of grapes, relying heavily on the ground upon which its grown, in this case the local tuffeau, a geologically ancient compressed chalky stone.
Wines are expected in our Portland warehouse in mid-August 2020 and ready for pickup or shipping shortly thereafter.