Hiya!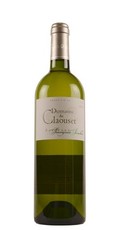 This white wine right here might be the best hidden gem in the store. No joke.
I love a classy white Bordeaux. There are oceans of them out there but many don't have this kind of liveliness and brightness. Nor can many good ones be found at this price. At just $14, its already a steal. But grab it this week, while our annual Labor Day Sale is en force, and starts looking extraordinary!
Domaine du Claouset Bordeaux Blanc 2015, On sale at $12.50
6-packs--10% off, just $11.25/bottle
A case of 12--20% off, only $10/bottle!
Claouset Blanc blends the two most famous grapes of Bordeaux--Sauvignon Blanc and Semillon. The aromatics on this bottle are the real sell, with lots of citrus, asian spices, and exotic fruits. I think the Semillon adds some nice richness and complexity. This is as mouthwatering of a white wine as we can find!
To order, please reply to this email with your request--"Sixer", "Solid box"--something like that. Or, click the link or photo above to read more and order online.
---
Labor Day Sale
As a reminder, the sale runs through the close of business this Saturday, September 3rd. Every wine in the store fits the same discount scheme as above--10% off six-packs, and 20% solid or mixed cases or more.

So please stop by sometime during the remainder of the week to say HI, taste some wine (including the white Bordeaux above), pickup your goods, and load up on some of your favorites. Or, you can just write me back and say, "Mix me up a case, lady!"
We hope to see or hear from you over the next few days to take advantage of our once a year sale. And don't forget, we'll be closd for a mini vacation from the 4th-7th. Come and get 'em!
---
Labor Day Sale 2016
Today thru Saturday September 3rd
Hours
Thursday/Friday: 11am-6pm
Saturday: 11am-4pm
(with free wine tasting all week long!)
Cheers!
Jane