PRE-ARRIVAL OFFER
Hi Friends,
I know I've been sounding like the grand ambassador for the Catalan Tourism Board lately, but I just can't get enough. This region surrounding the Pyrenées near the Mediterranean is pretty wonderful. It's demanding too, oftentimes neither French NOR Spanish is spoken, but the rewards are great--especially in wine.
Today's white wine offer is proof in the pudding.
About a year ago, following a visit and tasting at her small garage winery, I went with my friend Caroline Bonville to a small restaurant/bar/wine shop in the nice village of Maury. Le Restocave de Pichenouille is where the locals hang out and on this day we were greeted by the sounds of a mega-party happening on the terrasse out the back door.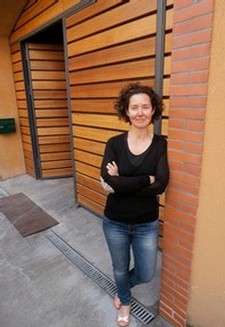 Caroline rolled her eyes and suggested we sit at the table in the front and avoid the bacchanal. We had just enough time to order, and dig in to our first course, when a loud and drunk reveler spotted her and screamed, "Caroline!" Uh-oh.
Turns out that the lunch party was the local rugby club, out for a typical 4-hour Thursday Catalan lunch. But this wasn't a Coors Light crowd, you know? These dudes were eating well and drinking well and once they saw her, and they knew they had a viticultrice in their midst, all hell broke loose. She shot me a glance that said, "See you in an hour," and off she went to say Buon Dìa to everyone there--about 40 happy campers all in all.
I was left to eat my grilled rabbit with Caroline's son Louis (10) and we had a great convo about judo, pokemon, throwing rocks into the Agly, and NBA player heights. After not too long I see the bar owner coming from the basement with a case or so of Caroline's wines and she is dutifully opening bottles for the rowdy crowd. I said to Louis, "Your mom is really working the bar!"
Indifferently, he looks back at me, points to my rabbit leg and asks, "are you going to finish that?"
So Louis polished off my lunch, I finished our bottle of the wine below, and was on my second noisette (a strong tiny coffee) when Caroline finally returned, tired but with a big smile on her face. Just another day working a Catalan bar at lunchtime.
The story speaks to Caroline's warm, welcoming affectionate way. This is hard country, the Catalan part of France. Temps in the summer are extreme, the wind and cold in the winter is biting and raw. Why try to grow anything here? Because that rawness added to a spirit of active determination results in extremely alive and spirited wines, that's why.
A little to new-agey for ya? Well maybe, but... go there sometime and see for yourself. I think you'll come away like I have, filled with happiness about the people and the culture, and a real sense of community.
And wondering how a 10-year old bogarted your lunch.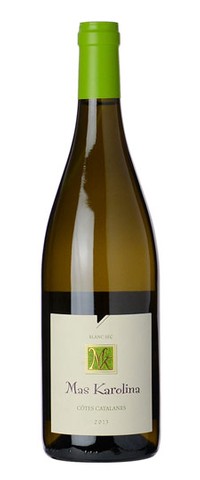 Mas Karolina Côtes Catalanes Blanc 2015, regular $21. This is the first ever white wine I'm importing from Caroline and it's the best I've had from her in the 8 years I've known her. Grenache Gris and Grenache Blanc vines of about 60 years old make up the base with small quantities of Macabeo (a uniquely Catalan grape) and Carignan Blanc added for richness and complexity. Half the wine is made in tank and the rest in barrels of which a mere 10% are new. The result is a fresh, exciting, lively wine--filled with cut white flowers, anise, and a sort of mineral chalkiness.
In the mouth the wine is round and unctuous yet with a lively mouthfeel. Perfect with your next grilled rabbit leg!
On Pre-Arrival Just $14/bottle
or $78 on 6-packs, just $13/bottle
To order please simply reply to this email with your request or click the link or photos above to order on-line. I expect the wine to arrive around mid-March.
Cheers!
Dan