Ciao //FirstName//!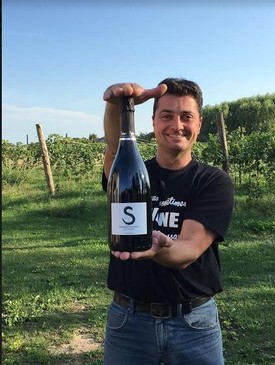 I wasn't planning on sending you anything today, but then last evening I received an email and this photo from Pier Sfriso. He's getting our ever growing palette of Prosecco ready and this is what he had to say:
I always forgot to mention that we have released 150 magnums of Prosecco this year too. Each one is numbered and it is packed in a box suited for delivery. The packaging was specially designed so that the box can be simply mailed without needing anything but the address. Inside there is also an envelope with a letter describing the product and how to drink it + a couple of trivia, as well.

The whole thing is a little expensive (ed note: NOT) but we have been selling quite few so far, already.
Of course this got me thinking--
Holidays coming up, check

Need to send gifts, check

We like things in party size, check
So I wrote him back and asked, "how expensive?" His reply came right back, and here's the deal:
Sfriso Prosecco DOC Spumante Extra Dry--in MAGNUM
Just $35
Um, not expensive.
Here's what I propose: As many as you'd like for pickup at our store, fire away by replying to this email. Or, if you'd like one shipped to a friend, colleague, co-worker, or family member as a gift, then please reply with their name and address and for an additional $5 I'll get it done. How about that!?
I expect the wine to arrive around November 1st and it will be immediately available for pickup or shipping so that it's in your/their hands by Thanksgiving.
Ready. Set. GO!
Saluti,
Dan
PS--It's not too late to order some of the same wine in regular 750ml size too. Right Here. $14.00 on pre-arrival.