Hiya Cru!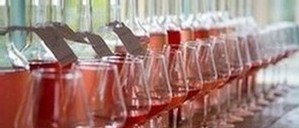 I received a note over July 4th from one of our pink wine buyers:
"First mixed case gone! Got any more??"
Well, our first iteration of Pink Don't Stink went pretty darn well, and almost all our quantites are gone, in fact. But, about 8 weeks ago I gathered a head of steam and got some more goodies on a boat.
And that boat arrives late next week! On it are five new wines, just 10 cases each, that will make up Pink Don't Stink Version 2. And again, it's just $75 if you pre-order today.
But wait a minute, that's just five wines, how is it a 6-pack, you ask? Because I'm throwing in a 6th on me for this round, that's how. It's a local wine I made a few years ago from Oregon Pinot Noir. I think it tastes great, but it's time to sunset what's left.
So...Buy the first five, get the 6th on me!
Six pack at $75 or
Mixed Case "Double Down" at $144
I will not charge you yet. This is a reservation only. I expect the wines late next week and will ring you up at that time. And if you're around you can pick up your wine on Saturday July 21st directly from our warehouse. More deets below...
With this round the mix comes from Italy, France, and Spain (and Oregon). I really like the wide differences in these wines and if you happen to keep one or two around through the fall, you won't be disappointed. Here's what's on the boat:
A dark garnet Tempranillo from Mas Bella in Tarragona, about an hour south of Barcelona.

From new producer Giovanna Tantini a Bardolino Chiaretto that comes from near the shores of Lake Garda.

Toby Bainbridge's super fun Rosée du Matin. A playful take on "morning dew". It's gone in 8 minutes.

Pierre Martin's Sancerre Rosé that is pure, elegant Pinot Noir at its best.

And the always highly anticipated Corzanello Rosato from my buddy Joschi at Corzano e Paterno. Spicy and aromatic Sangiovese.

Plus, the "freebie"--REAL Pinot Noir Rosé that we made in the Chehalem Mountains up near Bald Peak.
That's the plan. To order please reply here with your request: "Sixer" or "Mixed Case" and I'll followup shortly with a confirmation.
Your wines will be ready to pickup on Saturday July 21st (where I'll be, live, and in the flesh) as part of our first ever "Warehouse Pickup Party". More details to follow. But if you can't make it, then we'll just move your wine over to our store as ususal and have it ready during the week of July 24th.
In Rosé We Trust!
Cheers,
Dan