Tapas Ready. Luscious Tempranillo from La Rioja.
PRE-ARRIVAL OFFER
Hola Amigos,
The Calle Laurel in the city of Logroño is a sight to behold. Ana Fernandez Bengoa sent me there, opting to stay at home with her 2-year old (smart), and told me to take a deep breath, then dive in. I had no idea what she meant until I got there, on a seemingly quiet Sunday night in the heart of this Castliian city on the Ebro river.
Within about a 100 meter walk there are something like 65 tapas (pinchos) bars. Each one serves maybe a speciality dish or two, and serves a wine or two to go along. One spends perhaps 15 minutes at each one, chatting up a few people, getting intimately familiar with their elbows and their scent, then exiting for the next door just a few feet away.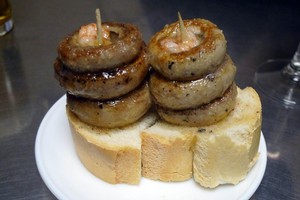 I began at 8:00, hooked up with some travelling collegians from Chicago, and was safe and sound back in my room at 1am. I bet we hit 15 of them, and drank a dixie cup-sized glass of Rioja at each one. For the night I think I was out 40 euros.
Now that's good living.
A favorite bar was the mushroom and shrimp joint, with three stacked caps stuck together with a long toothpick (2 euros) and served with a Paco Garcia Rioja (Ana and her husband's wine). I name dropped and within minutes the magic happened. I had a BIG glass of Rioja and a fantastic plate of these perfect snacks. I want to go back!
Paco Garcia Rioja Crianza 2014, regular $18
On Pre-Arrival at just $13, or better...
Six-Packs at $75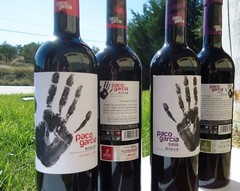 Man, there's an awful lot of truly horrendous Rioja out there. I just don't get it. And all that bad stuff serves to drive the prices down, even on the good stuff. Ana and Juan are making the good stuff, but their bottles are awesome values considering what's inside. $12.50 for Rioja Crianza like this is pretty tough to come by.
Many of you will recognize the distinctive hand on the bottle and remember the terrific 2012 we imported a few years ago. This '14 picks right up where that one left off. It might be a bit darker and more brooding, but this is saturated meaty Tempranillo through and through. The 1-year in older barrels has helped soften the flesh a little.
I think you'll want this one around for the summer, and it should be here just in time, right around June 1st. Please respond to this email with your request: 3, 6, case--whatever your pleasure. Or click the link or photos above to read more and order online.
Cheers!
Dan
PS--One more Spanish red offer later this week and then I hope you'll follow my missives while I'm on the road in the Loire and Burgundy for the next 2 weeks. Stay tuned for some "real time" action as I cut a path from Nantes to Sancerre to Beaune.