Pre-Arrival Offer #3 of 2018
"Five for the weeknights, One for the weekend"
Over the holidays, while I was working in the store, a customer came in and and explained his method for buying wine. "I like getting 10 or 11 of your value bottles," he said, "then sneaking in 1 or 2 rarities for special dinners and stuff. I never feel like I'm breaking the bank that way."
A nice plan.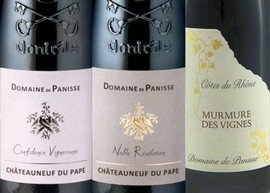 Then a week ago, as if by psychological osmosis, I got a note from Christine Olivier at Domaine de Panisse confirming our next shipment. I had just placed an new order for more of one our most popular red wines of the year and she was writing back to ask what was happening with all that wine! So I explained to her that $15 Cotes-du-Rhone, of her kind of quality, is actually not that easy to find.
She was happy to hear this and liked knowing that her wines were on lots of tables in the US over the winter. But then, as if channeling the guy I described above, she says, "How about if I sell you a few cases from my library stock so as to offer a mix, and then your customers can try one of our special wines too?"
"I could give you a few cases of my Noble 2012. How about it?"
Right! So how about it?
Domaine de Panisse 5+1 Six-pack
5 bottles of Cotes-du-Rhone 'Murmures des Vignes' 2016, plus

1 bottle of Chateauneuf-du-Pape 'Noble Revelation' 2012
just $99
The Cotes-du-Rhone retails for $15 and the Chateauneuf for $60. So by math that's $135 worth of wine for about 1/3 off the regular price. And best of all, you end up with five "every night" bottles and just like the guy I described above, "one of our rarities."
I have only 24 of these six-packs to go around. Christine literally is letting us cellar raid 24 bottles of her wonderful 2012 Chateauneuf and then that's all folks. To order, please reply to this email with your request (limit 2 six-packs), or click the link or photo above to read more and order online. These wines are scheduled to arrive around April 15th.
I'll be in the northern Rhone at the end of this week hunting for some Syrah (Cornas, Hermitage, St. Joseph) and some Viognier (Condrieu). Stay tuned for a report next Tuesday...
Cheers!
Dan