Happy Saturday!
The export price list at Domaine de Panisse is getting pretty small. There are just two wines on it. This past Wednesday I offered you the first--quite possibly the most damn tasty Côtes-du-Rhône on the planet for the price. When I wrote Christine Olivier and placed the order she replied "Bravo!" and then asked, "And how many Châteauneuf-du-Pape do you want?" (oops, almost forgot...)
So today, I bring you the second wine...
Domaine de Panisse Châteauneuf-du-Pape Confidence Vigneronne 2015, $29
5% off on 6-packs, 10% off on cases, on pre-arrival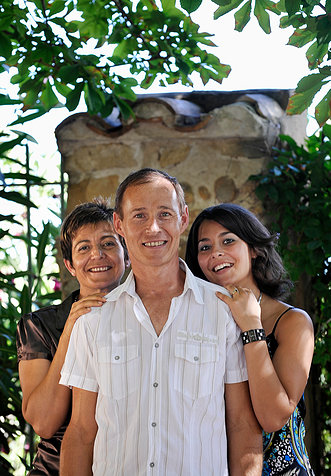 Back to that price list...Why just two wines? Normally, Christine and Jean-Marie Olivier produce a second Châteauneuf, always culled from their finest old vines of Grenache, and called Noble Revelation (which sells for $60). But 2015 marks a sea change at the Domaine as they decided to make a singular Châteaneuf instead, the best individual wine they could blend, and sold the remaining juice to another producer.
So, instead of a price list with a $37 wine and a $60 wine, we now have just one $42 wine, blended from the best grapes that typically go into the most expensive bottle.
Say what? Why would they do that?
Because the Oliviers are intensely focused on quality, that's why. To hear Christine explain it, 2015 was a superb vintage, like truly, truly awesome. When they began tasting the wines in the cellar from the different lots in their vineyard, they were surprisingly thrilled with everything. Ultimately, she found the idea of making two different bottlings to be silly. "What if the client opens both at the same time?" she asked. "There will hardly be a difference!"
What a wonderfully refreshing attitude this is. Sometimes winemakers are a little too artistic for my liking, and also fall into the trap of making "something for everybody." I think Christine is right. If given the opportunity to make one, singularly great, focused bottle of wine that reflects a vintage, and reflects a house-style, why not do it?
I have no other 2015 Châteauneuf-du-Pape in the pipeline. Christine is my only "go to" in the appellation. If you have a bit of room in your locker or cellar, you need some of this. If you're not really much of a "cellar-er", no worries, go for it anyway, and open it and drink it this winter while it's youthful and exuberant. The wine is opaque, dark, and handsome, a full-throttled Châteauneuf with both power and finesse. And even better, guess what? NO OAK!! While we tasted Mrs. Cru kept commenting on the wonderful black currant aromas that seemed intertwined with black olive, chocolate, and a background of herbes-de-provence.
Bravo indeed!
To order please simply reply to this email with your request, or click the link or photo above to read more and order online. I expect the wine to arrive by mid-October. Let's write back to Christine with a big number, shall we?
Cheers!
Dan