Whiskers on kittens? Heck, no! It's all about springtime in Oregon, impending sunshine, and Spring wine tastings! You know what I mean....sampling those sweet little easy and fresh wines with nuance, subtle fruit, lingering finish. Ah. So tomorrow, Friday evening, please visit us from 4-7pm. Come one, come all.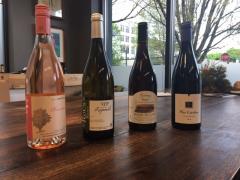 We are featuring a few of my favorite Corkscru wines that fit the upcoming season. Roquemale Blanc is a kitchen sink assemblage of varietals from Languedoc that has something for everyone- floral character, zesty acidity, stone fruit , balance. Amen.
Mas Karolina Cotes Catalanes Rouge is back with grace and charm. Dark fruits and fine, dusty tannins begs you to take this wine to the inaugural lighting of the barbeque. Hard to believe this juicy red was grapes on the vine just 7 months ago!
And just yesterday we tasted a perfect vision of Spring from our friends at Crowley. Their Oregon Pinot Rose is a great harbinger of things to come this year. It is as fresh and invigorating as any wine you would want at you side while say...gardening. Or reading a good book on your front porch. Double ah.
Lastly, the most stunningly simple little Gamay from alpine race car driver Daniel Bocard from the AOP Bugey brings you subtle hints of currant and tea rose at a price you won't believe.
Come taste with us!
Cheers,
Amalie