Hi,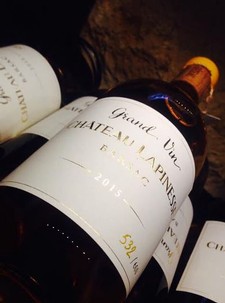 I'm not sure if this kind of thing is your cup of tea or not, but I know you're a wine lover in general, so I'm offering you, ahem, one bottle of this gem. BUT, it is a numbered bottle, one of just 600 produced (!), and with holidays coming up, I think you'll easily find a perfect special occasion to enjoy it. Here's the story....

I dig everthing that David and Laurent Siozard are doing a their lovely small esatate in Bordeaux. These twin brothers produce a wonderful range of dry red and white wines. But, their best holdings are part of their Graves vineyard in Sauternes/Barsac, and every few years, when the vintage allows, they make a very tiny quantity of an extraordinary sweet wine.

2016 Chateau Lapinesse Barsac Grand Vin, $85/750ml
On pre-arrival at $59
Just 24 bottles available

To call the 2016 vintage "stingy" would be the understatement of the year. A Spring freeze reduced the potential harvest by about 70%. But, a perfect late season, especially for developing botrytis, followed, and allowed them exactly one barrel of Barsac--pure, late-harvest Semillon that is in a word: perfect. I don't drink sweet wine often, preferring something like this instead--a one-off special bottle to share with friends/family after a big meal, or to just sit and contemplate on its own while reading a book on a lazy weekend afternoon.
You will go ga-ga over this bottle, I promise. It is rich, honeyed, concentrated, and unctuous. With "merely" 140 grams of residual sugar you might expect something like maple syrup in the glass. But, I find the wine actually pretty darn refreshing. (for a sweet wine) Additionally, you could leave this baby open in the fridge for 3-4 weeks and continue to sip off it with no loss of fruit or brightness.
Or, you could bury it your cellar until Sasha Obama becomes president.

HALF bottles of Yquem are selling on futures for $150. Am I comparing the two? Well maybe a little, but at least it gives a reference point. This is double the quantity and 1/3 the price!

I expect the wine here by early December so you can have it for sharing over the holidays. To order please simply reply with your request: "ONE", or if you really, really want TWO...I'll see what I can do!

Cheers!