Hiya Cru,
This one has been on deck for more than six years. Many of you will see the (now modernized) label and say, "Hey, I have a hat with that logo on it!"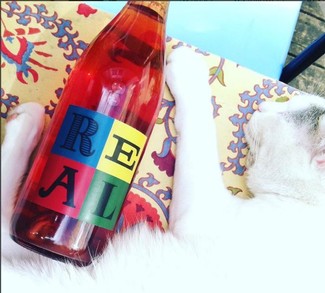 We created REAL way way back in 2005 as a brand that would be loyal to Oregon. We made a white and a red each year and folks seemed to like them a lot for their simple, no attitude approach. With REAL we weren't out to make anything haughty. We just wanted to put some no nonsense, delicious, affordable local wine in people's hands.
Starting Friday, we pick up where we left off.
We reinaugurate REAL with something oh-so summer, a Willamette Valley Pinot Noir Rosé that we made with our friend Willy G. at Freja Cellars. Willy shares our basic ideals for making wine--pick it, press it, babysit it over the winter, bottle it in the Spring. Done.
In fact, this wine was made over lunch one day last October. Our ton of Pinot came in at about 11am and it went into the press in one lot. We broke for a meal for about two hours, went back to the press, turned it on, and out flowed the juice. In THAT color! (this was a good sign)
This is no newsflash to many of you, but we just want to say: Pinot Noir makes some really nice rosé. In 2015 Willamette Valley growers enjoyed a bountiful, ripe, delicious harvest. And this wine shows it off. We really like the cherry, red berry, almond, white pepper, and racy elements in the wine. That all might sound a little geeky, but put more simply--the wine is ripe, dry, refreshing and delicious.
Here's the math: One ton of fruit translated to just 61 cases of wine. Not much. But, we want to put this yummy stuff into everyone's hands. So, we made it nice and affordable at just $15. But, it gets waaaaay better if you purchase some now:
6packs at $12.50/bottle
Solid cases at $11/bottle
There's just not much good Oregon Pinot Rosé on the market at that price. In fact, we see them at nearly double that pretty routinely. Come and get it!
We're labelling the wine on Thursday at the winery, and it will be in the store later this week and ready to pickup on Friday July 1st, just in time for your July 4th picnic weekend festivities.
To order simply reply to this email with your request: "Sixer", "Solid case", "Three Cases", whatever... Or, click here to order online.
Yay! We're gettin' REAL again!
Cheers,
Dan and Jane