Hello Friends!
Today, I give you our most popular 6-pack of the year: Pink Don't Stink.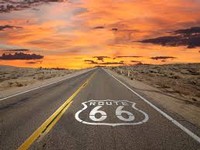 An actual customer came up with that name about 10 years ago and we've stuck with it ever since. (we should make hats). For the last few weeks folks have been asking me, "When will the stinky pinks be ready?!" "Where are all the rosé???"
Well, wait no longer. Dan's unloading them as I write this, and they'll be ready to go today as of 11am when I unlock the door.
There are a few things that are really exciting about this years' haul:
All six wines come from French women winemakers, all across the Mediterranean from Marseille to Montpellier to Perpignan.

Every wine was purchased and direct-imported from the winery to our door--no other stops in between. Which is why...

At $66 you're getting nearly 25% off the retail price of $90. If you choose to Double Down at $125, then you'll enjoy nearly 1/3 off!

Each 6-pack comes in a brand new spiffy blue wine tote that you can have, no really, HAVE, for FREE. (cuz we love you) I really dig that spiffy, bright blue bag!

There's plenty to go around. Take 'em home now, try them out, and call me back for more of the ones you like at 20% off.
There are two ways to order. 1) Simply reply to this email with your request: "Sixer" or "Double Down" and I'll make the magic happen, or 2) Click here to read more about each wine and order on-line.
PLUS, for the remainder of this week when you stop by to grab your loot, I'll have a bottle or two open (plus some other things) to whet your whistle and get thinking about your forthcoming picnics and trips to the beach.
See you soon!
Cheers,
Jane