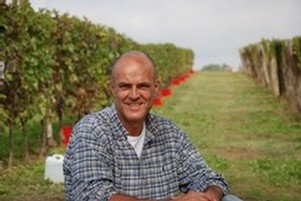 Savio Dominici sports a lovely deep baritone, his eyes are kind, and he is always smiling. Over a meal he effortlessly swings the conversation between wine, home renovations, Italian history, and his favorite kind of pasta (agnolotti). Positive energy just oozes from the guy. It's no wonder I like his wines so much. You think boring and uninteresting people make great wine? No, I don't either.
So when fellow Cru faithful Norm and I visited Savio and wife Elisabetta this past February, arriving at 4:00 and getting up from the table after 11, sated with food and lubricated with Barbera, Savio drawls, "Ahhh, there are no bad days in Piemonte. I like this very much."
Savio's sons Alessandro (ALE) and Matteo (MAT) tell me that ALEMAT was their dad's mid-life 50th birthday crisis. A successful businessman in Milan, he sold his pipe fittings operation in 2010 and then began the savings account draining process of buying vineyards and renovating a home and winery. In 2013 he made his first wine and hasn't looked back.
I love everything at Alemat, but I think there are 3 wines that stand out as quite special. Savio makes these in minuscule quantities, and I'm happy to have scored just a few cases of each. Here they are:
Savio's first wine was this 2013 Barbera d'Asti 'Augusta'. He bottled it in 2015 after 2 years in barrel and today it is just singing. I really like Barbera like this--still fruit-forward yet having developed some more complexity that only time brings. ($29)
Norm and I were immediate fans of the 2016 Grignolino d'Asti 'Emilio'. I'm a sucker for unusual grapes and this one fits the bill. The skins on Grignolino are thick and give good drying tannins, but, they're not saturated with color and the resulting wine is more in line with a light Pinot Noir. It makes for quite a sensation. We enjoyed drinking this a little cool with some ham and olives. ($19)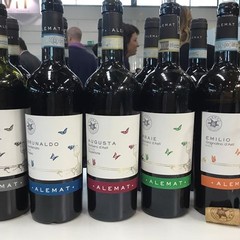 This is Savio's real fan-maker, and probably his best wine, the 2014 Croatina Monferrato 'Brunaldo'. Um, wow. The wine is like the love child of Barbera, Syrah, Pinot Noir, and Nebbiolo. Good dark fruit and a mouth-watering acidity here. Kind of hard to describe just how good this is. Just 600 bottles produced ($35)
I'd love for you to try one of each, so how about a 3-pack for just $66?
The wines are in the house and ready to go. If you can make it before Thanksgiving, Yamile will be at the store today, Tuesday, from 11-3, and again all day tomorrow from 11-6. But if not, you can catch Tom on Friday and Saturday from 11-6.
To order, please simply reply here and we'll respond ASAP, or click the link above to read more and order online. Supplies are limited on this one!
Cheers!
Dan