A NEW KIND OF PRIORAT WITH SUBSTANCE AND STYLE
DONKEY-MADE
Well, this is my final Spanish offer for some time, and the final offer from the upcoming Spring arrivals. This one lands in just 2 weeks...
It is the culmination of three trips to the Catalonia region in the past year, and checks an important "to do" off my list. I have wanted to add a winery to our portfolio from the Priorat town of Gratallops since I began importing. Why? Because it is breathtaking and magnificent, and probably one of the most extreme places to grow wine in the world.
And today, I'm offering you one of the most unique among them...

I read about a project started by a first-time-in-the-wine-biz young couple called Sao del Coster and sent off an email. Michele Negron Gonzales got right back to me, and agreed to a visit--right in the middle of harvest!

She and her husband met the same way--on the internet! Michele was an English teacher living in Madrid, and Xavy a journalist from Barcelona. She taught him Enlglish over Skype and one thing led to another. When they finally met face-to-face at a wine tasting, their fates were sealed. Within a year, they quit their jobs, moved to nearby Falset and purchased two small vineyard plots on steep hillsides near Gratallops.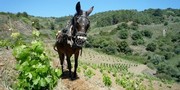 Now THAT's a love story!

They make their wine in a renovated 3-story townhouse in the village and use a mule, that's right--a mule (isn't he cute?!), to work their vines. (Steep is an understatement here)

There are a few other wineries in this magnificent village, all with precious bottlings that start at $50/bottle and move north from there. But Michele and Xavy want to make wine for the people. Even though they do in fact make some "elite" blends (more on those in years to come), I was thoroughly smitten with their "entry level" wine, if you will. It is named for a playful Catalan slang term that essentially indicates, "BANG! There it is!"
Sao del Coster PIM PAM POOM! Priorat 2016, regular $27
Your price is just $19, on pre-arrival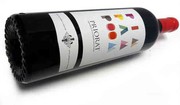 We have a study in Priorat style here. The Pim Pam Poom is youthful, exuberant, juicy, and fresh--a Priorat meant for everyday drinking, an oxymoron I didn't even know existed. Traditionalists in Priorat at first rolled their eyes at this style of Priorat--made in the style of Beaujolais. But then, when they taste it for their first time, the eyes light up and the second sip is not far away!
A bottle could be polished off happily over a meal of grilled meats and summer vegetables with some good salt and olive oil. That's how it will go at our place!
Like many European wineries in 2016, the vintage is small, but the quality fantastic. I'm snagging just 84 bottles of this beauty. You'll be happy to drink it this summer when you're looking for something red, but not something too overwhelming. You might even enjoy it touch cool.
First come, first serve on this one. I don't expect it to last the day. To order please simply reply to this email with your request, or click the link or donkey photo above to read more and order online. Expected arrival: June 15th--right around the corner.
Happy Memorial Day Weekend!
Dan