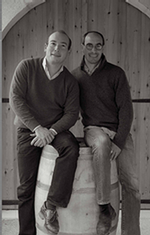 Twin brothers David and Laurent Siozard might look alike, but couldn't be more different.
Their paths cross in the night, or in the office. But never in the winery or the vineyard. David does all the commercial work, the admin, and the sales. Laurent drives the tractor, fills the bottles, and readies the shipments.
Laurent drinks fresh Sauvignon Blanc and Semillon directly from the tank and says, "that's the way to enjoy it!" David on the other hand, is patient. "12 months in old oak barrels would be better. More classy." Laurent agrees that David is the more refined one. "But I like getting dirty," he says.
David will jet to Hong Kong for a wine tasting. Laurent politely declines an invitation to lunch in the village.
The Siozard brothers are seemingly opposite in almost every way, yet their yin and yang add up to a complete package. Their competing forces have created two complementary wineries in Bordeaux. And they make two of the best whites I offer each year.

Chateau Lapinesse Graves Blanc Sec 'Cuvée Prestige' 2016--from a mere 1200 bottle production of pure Semillon. A concentrated, ample, and honeyed white wine. Harvested from a 1-hectare parcel in the middle of Barsac. ($25)
Domaine du Claouset Bordeaux Blanc 2017--a refreshing and dry white Bordeaux crafted from Sauvignon Blanc & Gris, Semillon, and a soupçon of Muscadelle. The latter adds a mouth-watering aroma of orange peel. As good as it gets in for everyday white Bordeaux at this price. ($15)
Two very different white Bordeaux, yet woven from the same cloth.
The past two vintages in Bordeaux have been rough. In 2016 they were down about 50% in production, and last year even worse--about 80%. The silver lining was that the season that followed the spring frost damage each year was darn near perfect. They just didn't make very much of it. But I'd venture to say that what did get bottled is just awesome.
There's really only one way to offer you these wines--By the Pair!
Vignobles Siozard White Bordeaux Duo
(one bottle each Claouset and Lapinesse)
Just $32
with 5% further off 6packs, and 10% off mixed cases
I expect the wines in our shop by the end of June. To order please simply reply here with your request: "Pair", "Sixer", "Mixed Case", "Case of Each"--whatever your pleasure. Or, click the link above to read more and order online.
Cheers!
Dan