Hey Cru,
Today, I have some reds and whites I'd like to talk to you about--those of Gabriel and Wenny Tari in the southwest of France. Their lineup of PURE wines has taken on a life of its own around here over the last few years. And a few weeks ago we received a new stock of these delicious bottles.
Here's the story: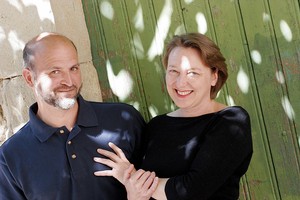 I was at first attracted to the wines of Chateau de Brau when I stumbled onto their website. Gabriel is pictured front and center with the caption "No, No, and No again!" prominently displayed. What follows is something of a diatribe on what working naturally means to him. "There are no prestigious ruins", "not every vintage is exceptional", and "organic farming isn't just a matter of doing nothing while the weeds grow."
Say it some more!
I liked Gabriel and Wenny before we even met. Then when we did finally meet, the like turned to admire, and since then the admire has turned to adore. I adore what the Tari' are doing in their little corner of the south of France. Carcassonne is only 30 minutes away, the Pyrenées and the Montagne Noir loom in the distance. Their home is equidistant from the Mediterranean and the Atlantic. In fact, their appellation, Cabardès (KAH-bahr-dez), lies on almost a continental divide, or fall line between the seas. Neat stuff, and more on that in the future.
When I arrived for our first visit Gabriel greeted me on the forklift, he was in the middle of bottling. He looked at me as if to say, "see, winemaking isn't all so romantic, eh?" Then Wenny found me and suggested he would put me to work if we didn't hightail it to the tasting room. I kind of actually wanted to help but once looking around at how clean the place was, viewing the garden-like vineyards, and sensing something special in the air, I wanted to try some wine.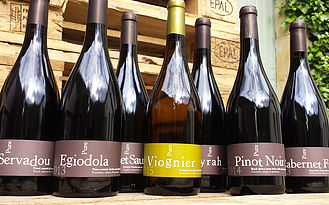 There's a large range of wines here, yet I would call this a small winery. I was most excited by a lineup called PURE, and I could tell from Wenny that she and Gabriel favored these too. Typically in Cabardès it is required to blend a combination of Atlantic grapes (Franc, Sauvignon, Merlot) with Mediterranean (Grenache, Syrah, Cinsault, and others). And at Brau they have them all, nearly 20 different grape varieties all told!
But, each year Gabriel separates a handful of plots to bottle single grape varieties in this PURE range. I think I tasted 10 altogether, each no more than a few thousand bottles produced! This is exactly the kind of stuff we're looking for...
Four today's PURE 4-pack I settled on four wines, three reds and a white:
PURE Cabernet Franc 2013, $16--Fine, smoky aromatics like Bordeaux, but with a wilder, more powerful element. What a pleasure to drink! Perfect with barbecue.
PURE Viognier 2016, $18--Rich, honeysuckled white wine with a nice asian spice tinge. Ready for your roasted chicken with fall vegetables.
PURE Pinot Noir 2015, $16--Nearby Limoux makes sparkling wine from the local Pinot Noir, but Gabriel prefers to show the variety as delicious, plummy dry red wine. A really lovely bottle that's ready for anything.
PURE Petit Verdot 2014, $19--Bordeaux's "other" variety thrives here in the sandy chalky soils of the Montagne Noire and yields a dark, brambly red wine. Would look great at the Thanksgiving table.
Okay, ready to cut to the chase?
One bottle of each to make a nice 4-pack: Just $59 (regular $69)
Three bottles of each to make a mixed case: $168
These are pretty darn interesting and tasty wines at the regular prices, but at $13-14/bottle they're all the more delicious! We direct imported all these wines from the front door at Brau to the front door at Cru. The wines are in perfect winery condition and tasting terrrific.
To order, please simply reply to this email with your request--"4 Pack", or "Mixed Case". The wines are in house and ready to go, like, right now!
And/or, Why not join us this Friday evening from 4-7pm to taste some of these plus some other new arrivals? Make a date and bring a friend. Amalie and I will be there with bells on!
Cheers!
Dan