Save the Date: Our annual Holiday Champagne and Sparkling Tasting.
Saturday December 9th from Noon-5pm. Come one, come all!
---
Hi //FirstName//,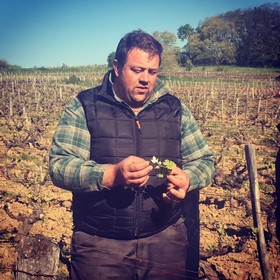 It seems anytime I mention Mathieu Cosme's Vouvray in an email, the floodgates open.
Well, here's a second chance on some of his wonderful bottlings of Vouvray. There won't be much more of these to go around in the coming year. Here's why:
Earlier in the year we made a stop see Mathieu in his tiny village of Noizay. He was in a bad mood because he'd been up all night burning straw in his vineyard because for the second straight year a late-Spring frost was threatening the vintage.
As it turns out, Mathieu harvested about 50% less grapes in 2017, all because of one night of temps at about 28 degrees way back in April.
You want to be a grape grower? Not me...
After a quick vineyard walk to view the damage we retired to the cave to taste some wine. Included was Mathieu's minerally and delicious 2016 Vouvray Promenards, as well as a bottle of sparkling awesome-ness called Fines Bulles--a bone dry Chenin Blanc bubbly.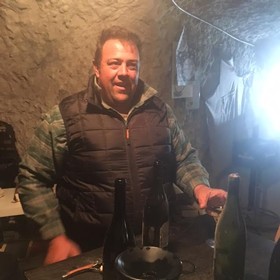 Mathieu's mood improved on the spot. He saw the look on our faces and knew that we liked what we were tasting. A silver lining to an otherwise depressing morning for him. Bad mood. Good mood.
These are wines that many of you have purchased in the past and for me are among the favorite things we import from France.
The new vintage of Les Promenards picks up and continues where the last one left off--a complex and refreshing Chenin Blanc with no residual sugar and a lively, honeyed, gin-and-tonic sensation.
The sparkling Fines Bulles is one of our favorite bubblies in all of France. A very fine bead of bubbles stream from the glass directly to the tip of the tongue. Drunk ice cold it is a wonderful celebration.
Domaine de Beaumont, Mathieu Cosme, Vouvray Promenards 2016 (regular $24, on sale $21)
Domaine de Beaumont, Mathieu Cosme, Vouvray Fine Bulles NV (regular $21, on sale $18)
Mathieu works in the tiny hamlet of Noizay, not far from Tours. He's an affable man-bear, listens toughtfully to questions, then answers in a sort of franglais, wanting always to practice his english. A consummate marketer--taking his time, being attentive.
The pace is slow here in Vouvray, and such is the way Mathieu's wines unfold--slowly, surely, and with patience. Prior to meeting him two years ago Mathieu had never even exported his wines to the US, and hardly elsewhere in Europe. Why? No one was willing to take the time I guess.
I'm awfully glad we did.
Both wines are in the house and ready to roll. To order please simply reply here with your request: "A Pair", "Mixed Six"--whatever your pleasure. Normal discounts apply--5% off on sixers, 10% off on mixed cases.
Plus, Amalie and Yamile will have these beauties open for tasting this week. If you can stop by on Friday between 4-6 I'm sure there will be some other goodies open too...
Cheers!
Dan