Hiya Cru!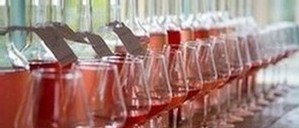 I received a funny note from a customer the other day that said, "throats are dry, dude. And the sun is out. Is the dang rosé ready yet?"
Tomorrow!
There is no greater pleasure for me, and no bigger frenzy, than when our annual 6-pack of rosé arrives and is ready to go. Well, that day is almost here and I want to extend one more offer to pre-order our tasty annual 6-pack of delicious pinks.
Alas, I give you...
Pink Don't Stink, v.2018
A mixed 6-pack of dry, Mediterranean French Rosé
Just $75
or $144 for a mixed case (2 of each bottle)
As I've done for the last 3 years--this year's mix is made by all small production, family run, women winemakers--Clos de Nines, Mas Karolina, Roquemale, Mas Seren, La Camarette, and Rey. A great lineup of dry, refreshing, lively and pretty rosé.
The total price is about 20% off the regular shelf price for each wine. And pre-ordering today will get you the best price. Nice math.
To request yours please simply reply here, old school style, with "Sixer" or "Mixed Case". I'll send you a confirmation email as quickly as possible and then follow that up with an order confirmation sometime tomorrow
In Rosé We Trust.
Sunny Regards,
Dan