Happy Saturday!
I write to you today from somewhere on the Normandy coast, not far from Omaha Beach. The oysters and scallops are good here, we had a long walk on the sentier des douaniers, and drank some good coffee with Calvados. So far, so good.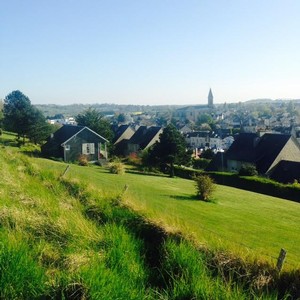 But it was this morning's hike that led us somewhere good. Really good. And now, I want to ask you all a question so that I might use your answer to gauge a future action. But while I have you, I also want to ask you a second question that comes on the heels of an email that came to me last evening from from my friend Eva Bonet i Baque in Catalonia.
Here we go, with TWO QUESTIONS:
Does Norman Cider interest you? I'm talking about Brut, dry, lively, intensely apple-y, farmhouse cider. None of that dirty, mass-produced crap that seems to be available everywhere.
Would some old Cabernet Sauvignon, from the 2005 vintage in Spain, interest you? For some of you this might be a repeat question, as I offered this once before, last fall. But read on...
Here are my own answers:
Before this morning, I would have answered NO. But this afternoon, with a case now in the trunk of our car, my answer is an enthusiastic YES. What was different? The cider was clean and zippy and fresh, and just packed with flavor. Claire and Sebastien Aumond run the whole deal themselves as a mom-n-pop shop. Will I try to import some? Yes, probably. Would I like to know your thoughts on the idea first? Most definitely. Let me have it!
Well, yeah! When I bought 180 bottles of this from the Bonet family last fall I thought I got all they would sell me, and of course, it evaporated in about 2 hours. But Eva wrote me yesterday to say that our new order had been picked up and her father agreed that we should have 120 more bottles. We like Eva's father. He responds to begging I guess.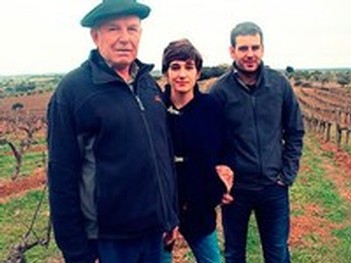 I met the Bonet' last fall and immediately fell in love with this place and this family. It is a "mono-cepage" operation--there is Cabernet Sauvignon ONLY. Nothing more, nothing less. The young wines are delicious and engaging. But it was their Reserva that stole the show. It was the last time that Jaume Bonet made a Reserva, and now, it is sadly almost gone.
It was special to get some the first time. Now, even more so!
Celler Comalats Cabernet Sauvignon Reserva 2005, regular $22
On pre-Arrival, just $16
6-packs, slightly better at $15
I expect the wine around June 1st, and remember, just 20 6-packs to go around. I think the wine has another decade of life too. If you already got some, here's a chance to fritter some more away in your cellar. If you missed it before, don't delay this time!
Either way, this is a special wine at a ridiculous price. To order simply reply to this email with your request, something like this:
1. Norman Cider: YES! (followed by some witty narrative if you wish...)
2. Old Spanish Cabernet: YES! ("Three", "Sixer", etc...)
Or, click the link or photo above to read more and order on-line. Talk to you Tuesday with a missive from Nantes and hopefully some old Muscadet to tempt you with...
Cheers!
Dan