Thanksgiving Survival Kit v.2018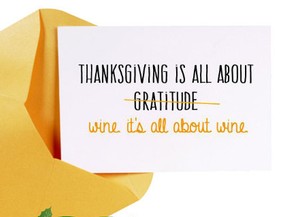 Well, these past few days have been fun. These babies are making a giant sucking sound running out the front door of the store.
What am I talking about? The ultimate mixed 6pack of wine that is Thankgiving Feast ready.
Frankly, there just isn't a single perfect wine for Thanksgiving. If you're like us, you spread out a whole buffet of dishes and in turn make a great big giant mess of the table. The only way to handle the wine aspect is one of these beauties--a perfect mishmash of delicious bottles. You'll get a bubbly, a white, and a variety of four reds all mixed up and ready to go for just $96 on the 6-pack.
Here they are:
The Sparkler (in Pink)
Hautes Noelles He-Ho Les Bulles, NV $21
For five straight years, we've featured a dry, sparkling, rosé at the top of this lineup. This year's comes to you from the mouth of the Loire, near Nantes, courtesy of our friend Jean-Pierre Guedon at Les Hautes Noelles. It's a celebratory kinda wine, meant to be yelled out loud as "Hey-Hooo!" Dry, refreshing and delicious.

The Perfect White for when you need a perfect white
Penada Ensaio Branco, Trans-os-Montes 2017, $15
A slightly off-dry number this year, direct from the Portugal back country. Winemaker Marco Montez, Portuguese born, raised in Angola, and now living in Boston, has celebrated a few Thanksgivings himself. His family cranks down their aromatic and bright Ensaio Branco--a field blend of native varieties that is mouthwatering, delicious, and easy to drink while doing all your cooking prep the morning of.

Spain (and Cabernet Sauvignon) on the Brain
Comalats Cabernet Sauvignon 'Alosa' Jove 2016, $16
You know we're Catalonia fans around here. But way out in the countryside, where it looks more like western Kansas than west of Barcelona, we find three sibling of the Bonet family growing just one grape--Cabernet Sauvignon. And man is it good. Dark purple color, a silky tannin, and gobbed up with fruit, this is a real eye opener of a Catalan red wine. Meant to be drunk young, like right now.

A Really Really Pretty Pinot Noir
Puits de Compostelle Pinot Noir 2015, $21
There is no way, I mean no way, to do a Thanksgiving six-pack and not include a Pinot Noir. But you know, we just can't do anything normal style, you know? So we went to Burugundy's tiniest appellation, on the eastern flank of the Loire, and found us some lovely and lively Pinot from the obscure Cotes-de-la Charité. This is the wine you want just a bit cool to wash down that crispy Turkey skin, or to cut through the mushroom gravy.

Because I would be dumb not to include this Barbera
Alemat Barbera Lidarosa 2015, $12
No way we're going to do this six-pack without an Italian wine. And this one, at the ridiculous price of $12 is just too good to ignore. The wine was an accident, according to Savio Domenici. He made a couple palettes of it for a retailer in Vicenza who then backed out on the deal. What a jerk. So, we bought it all instead! Fruit-forward, juicy, and downright delicious Barbera.

To Infinity, and Beyond!
Mas Seren Mintaka 2015, $32
We finish back in the south of France, in a small hamlet deep in the Cevennes, where Emmanuelle Schoch continues her march toward greatness. Her wines are all named after astronomical terms, I think because stargazing speaks to her visions for the future of her winery. With this, her top red wine, a heady blend of Syrah and Grenache, she truly reaches for the stars. This is the one you should get out AFTER the meal just so you have something to sip.
There you have 'em! At some time or another, nearly every single variety of wine has been offered by journalistic types as the "perfect" wine for the holiday table. Our selection focuses on wines meant to keep EVERYONE in the family happy, including you. You in?
One bottle of each for just $96
(at a regular price of $117, by my math)

Or, you can DOUBLE DOWN and get 2 bottles of each wine for just $180
To order one or more of these nice deals, simply reply to this email with your request--"6-pack" or "Double Down".
Want to order online and read more on each wine? Here you GO!
Wines are ready to go NOW, and available all the way through Thanksgiving Eve. We hope you'll try them out. Plus, we'll have bottles open for tasting throughout the week and weekend when you stop by to grab your loot.

Cheers!
Yamile, Tom, & Dan
PS--Mark Your Calendars: Saturday December 15th from Noon-5pm--Our annual Holiday Sparkling Wine Tasting!