Ciao Amici,
There are two simple truths to Italian wine:
There is lots of Italian wine out there. And much of it is unrecognizable by name.

These unusual and obscure wines are among Italy's best.
Over the past winter I had a stupidly early flight leaving from Venice and needed a place to stay near the airport. I'm not much for branded hotels and with the advent of things like airbnb and vrbo I enjoy finding places that are more off the beaten path. So this is how I ended up at the Casa dei Racconti, a small B&B Hotel near Treviso, and was the single, solitary guest at this fantastic place.
I checked in with the owner, Gianni Pasin, kind of late, and asked where I could go eat dinner. It was a Monday and Gianni became solemn. But then he spies my wine bag, with two open bottles peaking out, and says to me, "If those are to share, then I'll make us some dinner. I have to eat too."
These are the sort of flabbergasting moments I really like in my business. Wine seems to be a great unifier and gets one in the door to so many unique experiences. So here I was in the Venetian countryside, simply looking for a place to rest, and Gianni shows me my room and tells me to come back in 30 minutes with those wines. He would take care of the rest.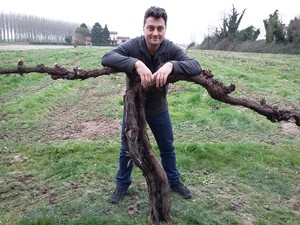 So I did as I was told and dutifully returned hungry. Gianni had put out a spread for two on one of his nice dining tables and I plopped those wines down and began to pour. And this is when the magic happened. Gianni looks at the labels and nearly gasps, wondering why an American travelling alone would have such unusual wines with him--the locally known Refosco, and the more recognizable, but still rare here, Cabernet Franc.
This led me to tell Gianni the story of my new friend Pier Sfriso (pictured, with his old Refosco vines) and his small winery in nearby Chiarano. Gianni remarked that Chiarano is known only for Prosecco (right, Pier's first wine), and never for the red wines. And he continued that this was a shame because the history there is far more red wine-centric and has almost become forgotten. Evidently in Italy it is important to be a raconteur on multiple subjects. This hotel owner knew more of the local wine scene than seemed possible.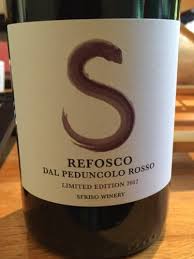 Two hours later we had polished off those wines and sat there satisfied, Pier's bottles empty, and Gianni ready to go make a visit to Chiarano on his own. And for me, a confirmation on what I had suspected were two really remarkable, hard-to-find Italian gems.
Grazie Gianni and Grazie Pier!
A mere 2000 bottles produced of this gem. Even though it is thought to be historically the mostly widely planted grape of northeastern Italy it is now harder and harder to find. In fact, I would call it rare. Velvety, round, dark-fruited and complex. A wonderful Limited Edition release. $19 on pre-arrival.
Just 1300 bottles produced and according to Pier, one of the favorite wines he's ever made. This is steak in a glass with an iron-scented, lightly herbaceous red that underneath reveals a fruit salad of dark berries and maybe bit of chocolate. Delicious right now. Just $15 on pre-arrival.
I've acquired a whopping 60 bottles of each and they're 'on the water' right now with an expected arrival my mid-November. To order, please reply to this email with your request, "2 of each, 3 of each"-- whatever your pleasure. They won't last long.
I hope you've enjoyed the new range of Italian wine we brought home this year. I'm looking forward to much more in 2018 and hope you are too!
Cari Saluti e tanti abbracci,
Dan
PS--There's a bit more of Pier's Prosecco still available too if you missed it the first time around. 750ml bottles at $14 on pre-arrival, and magnums at $35. Bring it on!