Hi //FirstName//,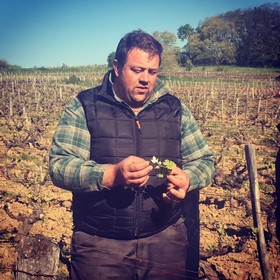 This is a reprise of an offer from about 3 months ago. I couldn't honor a number of orders, and it seems anytime I mention Mathieu Cosme's Vouvray in an email, the floodgates open.
Well, here's your second, and last chance on some of his wonderful 2016 Vouvray Les Promenards...
Earlier in the year we made a stop see Mathieu in his tiny village of Noizay. He was in a bad mood because he'd been up all night burning straw in his vineyard because for the second straight year a late-Spring frost was threatening the vintage.
As it turns out, Mathieu will again be down 50% for the second year in a row, all because of one night of temps at about 28 degrees.
You want to be a grape grower? Not me...
After a quick vineyard walk to view the damage we retired to the cave to taste some wine. Included, was Mathieu's 2016 Vouvray Promenards, bottled just 3 weeks earlier, and already stacked on a palette and ready to ship to Portland. We ordered first!
Mathieu's mood improved on the spot. He saw the look on our faces and knew that we liked what we were tasting. A silver lining to an otherwise depressing morning for him. Bad mood. Good mood.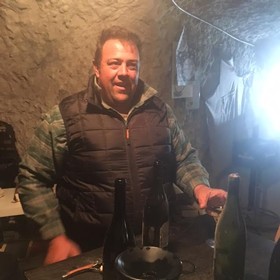 This is a wine that many of you purchased from the last vintage and for me was one of the best whites I've imported from France in the last year. The new vintage of Les Promenards picks up and continues where the last one left off. Mathieu Cosme is hitting on all cylinders.
So, here's a quick reprisal offer for the last remaining cases of our allocation on this wine. Originally he gave me 7 cases, but since we brightened his mood that day--another 7 are on the way!
Domaine de Beaumont, Mathieu Cosme, Vouvray Promenards 2016
On pre-arrival, just $16
Mathieu works in the tiny hamlet of Noizay, not far from Tours. He's an affable man-bear, listens toughtfully to questions, then answers in a sort of franglais, wanting always to practice his english. A consummate marketer--taking his time, being attentive.
The pace is slow here in Vouvray, and such is the way Mathieu's wines unfold--slowly, surely, and with patience. Prior to meeting him two years ago Mathieu had never even exported his wines to the US, and hardly elsewhere in Europe. Why? No one was willing to take the time I guess.
I'm awfully glad we did.
I expect the wine around August 15th, not too long to wait! To order, please simply reply to this email with your request: "Three", "Six", "Solid case"...something like that. (sorry, no webpage set up on this one)
Cheers!
Dan