SUPER TUSCAN PRE-ARRIVAL OFFER
Ciao Amici,
Aljoscha Goldschmidt just left the table where we've been sitting for about 2 hours together, tasting his extraordinary lineup of Chianti, talking about wine and farming, and dropping little bromides on me like this:
"Telling stories about farmers and helping to sell their products is a noble mission."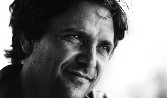 So I thought I'd take 30 minutes to tell you more of "Joschi's" story, and bring you this Tuscan Tuesday offer.
I'm going to be frank. The whole "Super Tuscan" phenomenon is just that--a fad. Cabernet Sauvignon rescued Chianti from the abyss in the 70's when the now noble Sangiovese was virtually undrinkable swill. A few Tuscan winemakers with vision looked at Bordeaux and wondered, "how are they doing that? How are they making wines so GOOD?"
Cabernet was the answer.
The same thing happened at Corzano e Paterno, in the Vale de Pesa, a few clicks from Siena. Although blessed with the newest clones of Sangiovese, Aljoscha's uncle, Wendel Gelpke, knew that Cabernet would save the day for Tuscany's image. And he was right. His plantings of just a few hectares in the mid 80's created a good fortune for their fledgling winery.
And today, I think Corzano's "Super Tuscan" Il Corzano is among the best Cabernet/Sangiovese blends around. So much so in fact, that I'd consider it their flagship wine. I've never offered you this before because I missed the boat last year, but now, HELP is on the way. And I've just re-tasted it with Aljoscha again this afternoon. I think this could be one of our top SPECIAL bottles of the year.
Corzano e Paterno Il Corzano, IGT Toscana 2013
Look, there are a lot of wines built and blended like this. They're made to please, with big oaky palates and powerful, astringent tannins. Aljoscha takes the time to understand that wines of this type are like male models--kinda nice to check out at first, but not really anything to stake much more time and effort on.
Dare I say that he has found a recipe for a Super Tuscan that is creating something more akin to a good looking college professor, or maybe a studly mechanic that also reads philosophy? Like that dude Luke from Gilmore Girls that runs the diner--stubbly beard, and backwards, cap, but really sweet and overall nice?
That's the wine we have here--a little coarse, but easy to relate to. And at the end of the day, a CLASSIC.
Okay, enough metaphor for one email. Want some Il Corzano 2013 for yourself? Want to see one of the best of the best blends of Sangiovese and Cabernet in all of Chianti? Here's your wine. I have just 120 bottles arriving around mid-March--the wine is currently on a boat headed for New York harbor. Pretty darn good wine at $39, but...
offering today at $26,
or slightly better at $25 for the 6-pack ($150 total).
To order please simply reply with your request, or click the link or photo above to read more and order online.
Caro Saluti e Ciao!
Dan