Hey Cru,
Perhaps my three favorite white wines from France that I import all just landed at the same time a few weeks ago. These wines answer one of those parlor game questions like "What are the three best white wines in France" or something of that nature.
With apologies to Chablis and Alsatian Riesling (none in stock of either), here's my reply:
Vouvray

Sancerre

White Bordeaux
It just doesn't get much better, and for some, simply reading the names conjures an imagination filled with classy wines served alongside fancy dinners. But these three wines are meant for drinking now, during summer, with whatever sort of warm weather, barbecue-y, or salad-y meal you can fire up.
So...how about a great 3-pack of French Whites?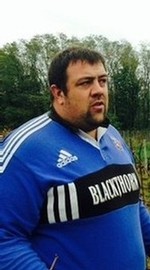 The Vouvray is an annual favorite around these parts from Mathieu Cosme (pictured) at the Domaine de Beaumont. His Vouvray Promenards 2017 is Chenin Blanc at its very finest. A stylish and minerally Vouvray that is bone dry, yet filled with a honeyed richness and a lemon/lime freshness. A truly superb fresh bottle. ($25)
We can't keep Pierre Martin's Sancerre Chavignol in stock. At this price there just really isn't much of anything better in the market. And with this 2017 Pierre hit on all cylinders. It is a racy, limpid Sauvignon Blanc, loaded with pink grapefruit rind and featuring a wonderful almost pulpy texture. ($25)
There is only one appellation worth thinking about for Bordeaux Blanc--Graves. And the tiny production of Chateau Lapinesse Cuvée Prestige 2016 is a contender for among its best. Hardly anyone knows about this small winery with just a couple hectares of Semillon near the small town of Barsac. About 6 months in older barrels gives this wine incredible length and complexity. A stunningly good bottle. ($25)
A regular price of $75, but yours today on a 3-pack for just $66. And better yet, a mixed 6-pack will earn you an addtional 5% off, and mixed cases will get you 10% off. Pretty delicious numbers.
The wines are IN and ready to roll starting when we open tomorrow, Friday 8/3 at 11am. To order please simply reply to this email with your request: "3-pack", "Sixer", or "Mixed Case" and I'll get you a confirmation right away.
Come and get em!
Stay cool.
Cheers,
Dan