Ciao Cru!
I have a very unhealthy love/hate relationship with Italy. I love going there. I love eating there. I love meeting the people there. I really love the coffee there.
And over the years (in general) I have often hated the wines.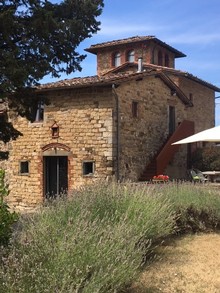 But the tide is finally turning. And to thank for this, I have people like Giovanni and Katharin Davaz. Whatever it is they're doing at Poggio al Sole should be made into an operating manual for other Italian wineries, and especially in Tuscany. Their wines are just so, so...UN-ITALIAN!
What the heck do I mean by that? Let me explain. I taste so many "dirty" wines in Italy. It seem as if they were made in: a) dirty tanks, b) dirty barrels, or c) dirty wineries. These things have a way of seeping into the final product. I can't understand how wines that smell of old leather shoes filled with whiskey and chicken poop brings a smile to anyone's face. Who takes a whiff of that and thinks, "Yeah, that would pair nicely with some vitello crudo?" Uh-uh.
So when you walk into the winery at Poggio al Sole, flip on the lights, and are surrounded by gleaming stainless steel tanks and pristine barrels, you might be tempted to eat your tortellini quatro formaggi right off the floor. Yep, you're in a different place. A CLEAN PLACE!
Giovanni and Katharina are Swiss (they're known as Johannes and Kathrin when they visit relatives) and arrived in Chianti in 1990, filled with energy to develop a vineyard and rehab a winery that dates back to the 1600's. They did so painstakingly, never cutting corners, never doing things half way, (they have a solar array that provides all the needed power for temperature-controlling the winery) and now making wines that are a reference point for Chianti Classico.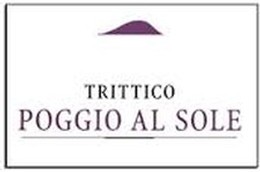 They even use a slogan on their website: "Italian Wine with Swiss Quality". I concur.
But not every wine at Poggio al Sole is Chianti Classico. Giovanni wanted to make what he playfully calls a "baby Super-Tuscan," by showing off his Sangiovese with the more famous Bordeaux grapes Cabernet Sauvignon and Merlot. And he wanted it to be affordable enough for every day--something to wash your down your bistecca fiorentina, maybe.
He has succeeded.
On pre-arrival at $13.50
6packs at $75 (just $12.50)
Solid cases at $144 (best price at $12/bottle)
Trittico 2015 is, very simply put, delicious in every way. This is the purple, rich, juicy, and loveable Italian red I've always looked for and never found. The 10% dose of Cabernet gives a chewy edge, while the Merlot plumps it up. Sangiovese does the bulk of the heavy lifting though, loading the glass up with ripe, refreshing notes of red fruit.
At those prices, I hope you'll consider six or case. It is molto bene!
To order, please reply to this email with your request--"Three", "Six", "Case"--whatever your pleasure. Or click the link or photos above to read more and order online. I expect the wine toward the end of October, ready to open and enjoy immediately upon arrival. Perfect for the holidays.
Cheers!
Dan