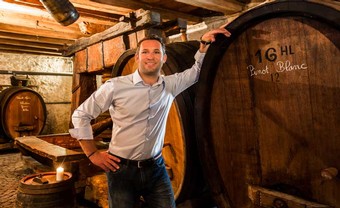 I already know that this might be my favorite offer of the year. We use terms like "friend makers" and "calling cards" loosely sometimes, but make no mistake, these are some of the best wines I import. If you're willing to take a flyer on one offer this fall, make sure it's this one.
And with Thanksgiving around the corner, there may be no better white wines to be had.
Supporting all our wineries leaves me feeling really good. I like what we're doing for small, organic, future-minded winemakers like Thomas Baur.
Thomas is a good 'ol Alsacienne country boy, now a 9th generation winemaker at his family winery in Turckheim, yet he's also a thorughly modern young 20-something. The cross section in Thomas of past, present, and future is on full display in that photo, huh?
During my first trip to meet him this past winter we tasted and drank all his wines over a hearty lunch at the little wistub (wine restaurant), next to his winery. There were no weaknesses and I ordered on the spot. The following three wines were my highlights. Here, they are, organized into a tasty 3-pack:
just $54 for the 3-pack
or $99 for a mixed Six
Riesling Herrenweg 2016--A benchmark vineyard for the appellation with Thomas' neighbors a veritable who's who of organic and biodynamic farmers---Josmeyer, Barmes, Zind-Humbrecht. This is Riesling with tension, loaded with apricot, peach, and passion fruit, yet lasered up with terrific acidity. For a $20 bill I can't think of many better Rieslings.
Pinot Blanc 2016--I typically dislike this variety, likening it to drinking dish soap or suntan lotion. But, when it's grown on schiste (slate), and farmed to low yields it can be really damn interesting and delicious. Lot's of Thomas' Pinot Blanc is dedicated to his Crémant, but one small vineyard plot stands above the others and is dedicated each year to this single bottling. Ready for a classic choucroute!
Gewurztraminer Herrenweg 2015--This is my holy grail from Baur. I have searched for years to find an appropriately dry Gewurzt (Geeh-veertz) from anyone, anywhere. Most versions have been either dessert-like sweet, or out-of-balance candied. But when I tasted this one my eyes popped. It may be the most aromatically wonderful wine I import, redolent of lychee, geraniums, and candied orange rind. Wow oh wow oh wow.
Averaging just $18/bottle, or less depending on how many you order, these are really magnificent wines.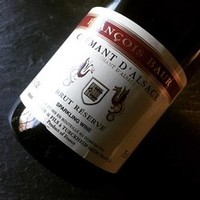 BUT, there's more! I also ordered a small pile of Thomas' brilliant Crémant d'Alsace for you to have around over the coming holidays this fall and winter. I just love this brut, bone dry, blend of Pinot Blanc, Pinot Gris, Chardonnay, and Riesling. It's one of the best references for Crémant that I've found anywhere. Regular priced at $21, and on sale with this offer at $18.
Your reply with an order today will be ready for pickup or shipping right away. The wines are in the house and ready to roll.
Cheers!
Dan
PS--Got travel plans next year yet? We're doing two different 8 day/7 night trips to the Loire--the first around Memorial Day, and the other in mid-September. I've discovere a lot as an importer over the last 25 years, but in the last 15 months of actually living here...well, it's a whole new ballgame. And I'd love to share some of my favorite joints with you. Trip Advisor be damned!
Interested? Just shoot me a reply here and we'll start a separate conversation!